Are you looking for new ways to teach kids about math and science? Do you want activities that meet you where you live, whether your "classroom" is an active volcano, the shark tank at the local aquarium, or your own kitchen table? You've come to the right place. howtosmile is a collection of the best educational materials on the web, in addition to learning tools and services – all designed especially for those who teach school-aged kids in non-classroom settings.
SMILE was launched in 2010, by a group of science museums dedicated to bringing science, technology, engineering, and math (STEM) out of the academic cloister and into the wider world. Our organizations are resource hubs for educational programs that involve people of all ages and backgrounds. The founding partners of howtosmile were the Lawrence Hall of Science, the Exploratorium, the Science Museum of Minnesota, the Children's Museum of Houston, and the New York Hall of Science. The website is currently operated as a partnership between the Lawrence Hall of Science and the Children's Creativity Museum in San Francisco. 
Team Members
---
While the website launched in 2010, howtosmile has been a major project since 2007. In that time, the people listed below helped shape howtosmile into what you see today. Although many team members have moved on, their contributions are recorded here.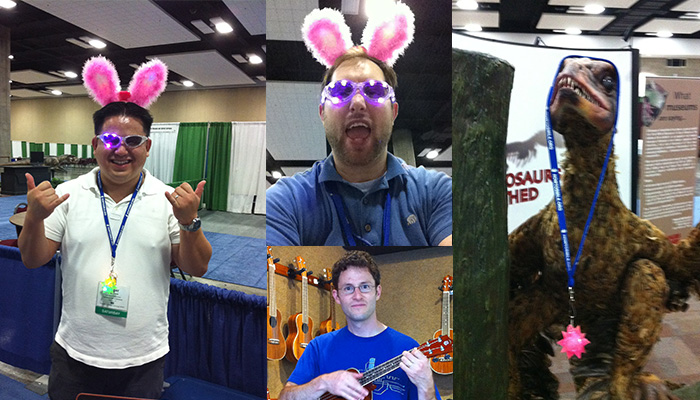 Leadership
---
Darrell Porcello
Sherry Hsi
Software Development & Design
---
Dan Bluestein
Zak Assoul
Chris Linden
Roger Vang
Joel Rosenberg
Collections & Editorial
---
Tara Lang
Lizzie Hager-Barnard
Erin Van Rheenen
Lauren Lindskog
Rebecca Reitz
Outreach & Communications
---
Deborah Rose
Ken Bell
Linda Devillier
Cassandra Byrd
Evaluation
---
Maia Werner-Avidon
Scott Randol
Douglas Spencer
Partners
---
Keith Braafladt
Margaret Glass
Preeti Gupta
Asia Ward
Cheryl McCallum
Original Advisors
---
Alice M. Agogino
Larry Bell
Trudy Dunham
Richard Hudson
Marilyn Johnson
Kimberly Lightle
Karen A. Peterson
Susan Van Gundy
Bruce Mason
Sarita Nair-Pillai
William S. Spitzer
Michael Wright
Partners
---
howtosmile has benefited from a prestigious and diverse array of national organizations dedicated to STEM. National Partners including: science museums, federal agencies, professional membership organizations, community-based groups, public television stations, and other organizations engaged in out-of-school education, have directly assisted howtosmile in showcasing and catalog great STEM activities.
Founding Partners
---
Exploratorium
Science Museum of Minnesota
Children's Museum of Houston
New York Hall of Science
ASTC
National Science Digital Library/UCAR
National Partners
---
Astronomical Society of the Pacific
BRIDGE
COSI
WGBH
4-H
NASA
OMSI
TERC
DragonFlyTV/TPT
AAUW
Perkins School for the Blind
Association of Zoos and Aquariums
California Academy of Sciences
FAQ
---
howtosmile is an online collection of math and science activities available to anyone, free of charge. We are also a community of educators who contribute, use, and comment on activities at howtosmile.org. The SMILE in howtosmile stands for Science and Math Informal Learning Educators; the project was originally a pathway (an audience-specific branch) of the National Science Digital Library (NSDL.org) howtosmile' s learning activities, tools, and services are available to all but are designed especially for those who teach school-aged children in non-classroom settings (like museums, zoos, aquaria, and afterschool or outdoor education programs). SMILE is dedicated to bringing the science, technology, engineering, and math (STEM) activities developed by informal science organizations around the country to the wider informal educator community, while encouraging that community to both use and contribute to the growing collection.
Resources in howtosmile are available to anyone who wants high-quality, hands-on math and science activities for school-aged children or for the general public. But we are particularly interested in reaching educators in out-of-school learning environments: afterschool and outdoor education programs; science museums, aquaria, zoos, and technology centers; and homeschoolers creating their own curriculum.
howtosmile spotlights hands-on and interactive activities, both physical and virtual, that involve doing and learning. Activities take many forms, from downloadable lesson plans to how-to videos to online interactive games. howtosmile activities teach science, technology, engineering and math (STEM) and are developed by a wide range of organizations working with diverse audiences.
howtosmile was originally supported by a grant from the National Science Foundation under the National STEM Education Distributed Learning Program (NSF DRL 0735007). The project has received subsequent funding from the Oracle Corporation and the Camile & Henry Dreyfus Foundation. Presently, howtosmile is a project of the Lawrence Hall of Science.
It costs nothing to contribute to howtosmile, to use howtosmile resources, or to participate in the howtosmile community. You can access resources without being a member or signing in to the website. To access the value-added community and annotation aspects of howtosmile, you will be able to sign up online. Signing up costs nothing and takes only a few minutes.
Reach a wider audience:When your resources become part of the howtosmile digital library, they become available to a large network of educators and institutions.
Be associated with quality learning: howtosmile is selective, and the howtosmile partners are well known for high-quality, educationally sound materials. Because materials are reviewed and vetted before being added to the library, resources offered under the howtosmile banner have a virtual seal of approval from respected members of the educational community.
Promote your organization: Because you can "brand" your resources with the name of your institution, your institution itself gets valuable exposure when people access your resources through howtosmile.
Be part of larger community: Don't hide your light under a bushel. Bring your valuable resources into the wider world of science education to a place where educators will come to search for activities and share them with colleagues.
Be part of a movement: The howtosmile team believe in open education - free exchange of knowledge, ideas, teaching approaches, and tools for education over the Internet. If you believe children should have access to high quality STEM materials that are easy to find, come join us!
howtosmile is part of the National Science Digital Library (NSDL), which is a consortium of digital libraries. NSDL is now a project of the OER Commons/ISKME. The founding partners that comprise howtosmile are also members of the Association of Science-Technology Centers (ASTC).
To suggest a resource for the collection, fill out this simple form. If your organization has a collection of resources you'd like to contribute, email us with a brief description of the collection and tell us whether the collection exists in its own database with its own metadata.
Email us with a brief description of the format of your metadata, and we can discuss what the options are. howtosmile metadata is based on the Dublin Core (DC) standard, and is designed to be interoperable with the NSDL as much a possible. howtosmile is the only NSDL pathway aimed at the informal education community, therefore we have extended the metadata to include fields of special interest to out-of-school educators serving a varied clientele.
We're looking for individual math or science activities, though they of course may be part of a larger collection. howtosmile points to URLs that give educators immediate access to an activity. howtosmile doesn't catalog larger web sites that contain many resources, although the URLs for those higher-level collections can be linked to the record for an individual activity.
Resources are often hosted by their creators, but howtosmile is not an archive. Resources that you recommend or contribute to howtosmile must already have a digital home, so to speak. howtosmile collects links to existing online activities, adds valuable metadata to make the resources more discoverable, and provides a web portal from which to search for these activities and to create community around those resources.
We rely on educational organizations across the country to suggest appropriate resources or to contribute individual activities or entire collections of resources. Once submitted, we also review activities for quality. For more on what we're looking for in a howtosmile activity, see our Collection Quality Guidelines.
With the help of experts in the field, howtosmile has developed a cataloging system that allows individual activities to be tagged as being developed for various underserved audiences. We have refined our vocabulary to allow catalogers to specify how an activity might be associated with an underserved group. For example, instead of simply associating an activity with "Native Americans," the cataloger would choose from a variety of specific tags, from "Addresses bias against this group" to "Identifies role models or mentors in STEM field from this group." howtosmile is also able to specify if and how an activity has been developed for students with barriers to learning, whether those barriers are in the form of vision or hearing impairment, limited English proficiency, or other accessibility issues.
Because howtosmile is aimed primarily at out-of-school educators, aligning our activities with local, state, and national standards is not our main goal. We do note, however, when howtosmile activities contain information on standards alignment, which allows educators to search by that criterion. Also, with the help of our NSDL partners, we have added a collection aligned to common core standards in math.
howtosmile is powered by EduPak, a platform based upon Fedora open source repository software (http://ncore.nsdl.org/). This includes a collection management system called the NCS (NSDL Cataloging System) which provides cataloging capabilities. howtosmile has created a customized version of the NCS that includes special metadata fields. howtosmile also uses Solr, an open source search engine based on Lucene which was created by the Apache Foundation. Solr uses a Lucene index that is compatible with the NCS.