---
Add to list
Go to activity
Activity link broken? See if it's at the internet archive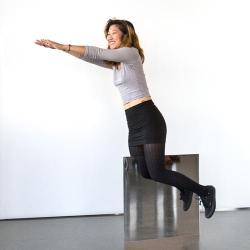 In this demonstration, amaze learners by performing simple tricks using mirrors. These tricks take advantage of how a mirror can reflect your right side so it appears to be your left side. To make the effect more dramatic, cover the mirror with a cloth, climb onto the table, straddle the mirror, and then drop the cloth as you appear to "take off." This resource contains information about how this trick was applied during the making of the movie "Star Wars."
Quick Guide

---

Preparation Time:

10 to 30 minutes

---

Learning Time:

10 to 30 minutes

---

Estimated Materials Cost:

Over $20 per group of students

---

Age Range:

Ages 8 - 14

---

Resource Types:

Activity, Demonstration

---

Language:

English
Materials List (per group of students)
---
A large, flat, plastic mirror, 2 x 3 feet (60 x 90 cm) or larger
A length of 2 x 4 inch wood and a router tool, or ring stands and clamps
A sturdy table on which you can stand (optional)
A partner. Adult help.
Subjects
---
Life Sciences

Human Body

The Brain and Nervous System

Human Senses and Perception

Physical Sciences

Vibration and Waves
Light and Optics

Lenses and Mirrors
Reflection and Refraction
Informal Categories
---
Photography and Film/Video
Audience
---
To use this activity, learners need to:
Learning styles supported:
Involves hands-on or lab activities
Other
---
This resource is part of:
Access Rights:
By:
Rights:
Funding Sources:
National Science Foundation
California Department of Education
NEC Foundation of America