---
Add to list
Go to activity
Activity link broken? See if it's at the internet archive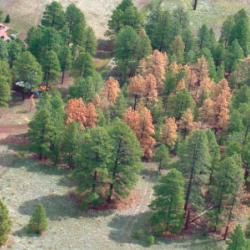 This activity investigates how bark beetles can threaten forests by having learners estimate the number of infected trees from a photo. Learners also think about how pheromones could be used to trap the beetles. The activity is written for a kit that can be checked out of a library, but the kit is not necessary.
Quick Guide

---

Preparation Time:

Under 5 minutes

---

Learning Time:

10 to 30 minutes

---

Estimated Materials Cost:

$1 - $5 per group of students

---

Age Range:

Ages 4 - 8

---

Resource Types:

Activity, Lesson/Lesson Plan, Simulation

---

Language:

English
Materials List (per group of students)
---
Copies of photographs (in PDF)
Notebooks
Pens or pencils
Bottle of air wick
Subjects
---
Engineering and Technology

Engineering
Technology

Agriculture and Biotechnology

Life Sciences

Cells
Diversity of Life
Ecology
Human Senses and Perception

Physical Sciences
Mathematics

Data Analysis and Probability

Data Analysis
Data Collection
Probability

Measurement
Number and Operations
Reasoning and Proof
Representation

The Nature of Technology

Technology and Society

Technology and the Environment

The Nature of Science

The Scientific Process

Conducting Investigations
Gathering Data
Communicating Results
Informal Categories
---
Animals
Nature and Environment
Audience
---
To use this activity, learners need to:
see
see color
be mobile
smell
Learning styles supported:
Involves hands-on or lab activities
Other
---
Components that are part of this resource:
This resource is part of:
Access Rights:
By:
Shaw, Maisie ; Gomez, Maria
Rights:
All rights reserved, Passport to Chemistry Adventure Program, Mount Holyoke College, 2010
Funding Source:
Camille and Henry Dreyfus Foundation, Inc.