---
Add to list
Go to activity
Activity link broken? See if it's at the internet archive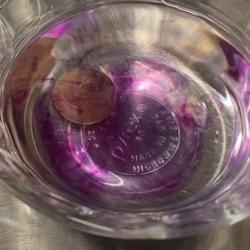 In this experiment, learners test multiple food items to see if they are an acid or base using an indicator solution created with red cabbage. Learners experiment with candy, fruit juice, milk, and any other edible items around your house they are curious about. Test items are separately added to a clear container with water before using an indicator to discover its pH level (pHs of less than 7 indicate acidity, whereas a pH of greater than 7 indicates a base). Activity includes step-by-step instructions with photos, an activity video explaining the experiment process in detail, background info, suggested questions for caregivers to ask learners, suggested extensions. Adult supervision required when using stovetop or kettle.
Quick Guide

---

Preparation Time:

10 to 30 minutes

---

Learning Time:

10 to 30 minutes

---

Estimated Materials Cost:

$5 - $10 per group of students

---

Age Range:

Ages 6 - 14

---

Resource Types:

Activity, Experiment/Lab Activity

---

Language:

English
Materials List (per group of students)
---
Stove top-SAFETY WARNING
Small head of red cabbage
Grater (or knife)
Two pots
Water
Strainer
Small, clear cups/containers (1 for each item being tested)
journal (to record results) or paper and pen
Dropper or small spoon
Three or more household items to test: fruit juice, vinegar, baking soda, candy, etc.
Subjects
---
Physical Sciences
The Nature of Science

The Scientific Process

Asking Questions
Conducting Investigations
Gathering Data
Other
---
Components that are part of this resource:
This resource is part of:
Access Rights:
By:
Source Collection
Rights:
All rights reserved, Scott Family Amazeum, 2021