---
Add to list
Go to activity
Activity link broken? See if it's at the internet archive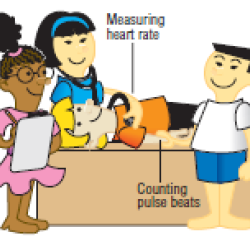 In this activity about how the body regulates blood pressure (page 117 of the PDF), learners make and compare measurements of heart rate and blood pressure from three body positions: sitting, standing, and lying. Learners are also challenged to think about how the circulatory system might behave in a microgravity environment (i.e. astronauts in space). The lesson guide, part of NASA's "The Brain in Space: A Teacher's Guide with Activities for Neuroscience," includes background information, evaluation strategies, and handouts. Note: cost of materials does not include cost of stethoscope or sphygmomanometer; these may be borrowed from a nurse.
Quick Guide

---

Preparation Time:

Under 5 minutes

---

Learning Time:

30 to 45 minutes

---

Estimated Materials Cost:

1 cent - $1 per group of students

---

Age Range:

Ages 8 - 18

---

Resource Types:

Activity, Experiment/Lab Activity, Lesson/Lesson Plan

---

Language:

English
Materials List (per group of students)
---
Watch or access to clock with a second hand
Stethoscope
Sphygmomanometer (an instrument for measuring arterial blood pressure consisting of an inflatable blood pressure cuff, inflating bulb and a gauge showing the blood pressure)
Alcohol wipes to clean stethoscope ear plugs after each use
Copy of Activity Sheet: "Changing Body Positions"
Table or bench long enough for a student to lie down
Subjects
---
Life Sciences

Human Body

The Brain and Nervous System
Circulation
Health and Nutrition

Mathematics

Data Analysis and Probability

Data Analysis
Data Collection
Data Representation

Measurement

Physical Sciences
The Nature of Science

The Scientific Process

Conducting Investigations
Gathering Data
Formulating Explanations
Communicating Results
Audience
---
To use this activity, learners need to:
see
read
hear
be mobile
touch
Learning styles supported:
Involves teamwork and communication skills
Involves hands-on or lab activities
Other
---
Includes alignment to state and/or national standards:
This resource is part of:
Access Rights:
By:
MacLeish, Marlene Y. ; McLean, Bernice R.
Rights: