---
Add to list
Go to activity
Activity link broken? See if it's at the internet archive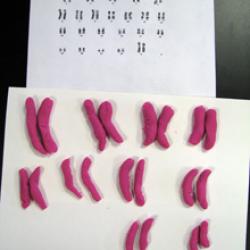 This activity was designed for blind learners, but all types of learners can have a tactile opportunity to construct a karyotype, an organized model of an organism's chromosomes, conveying the chromosome's size and shape. Learners with visual impairments as well as sighted learners can learn about the organization of chromosomes which carry the genetic material in all cells that have a nucleus.
Quick Guide

---

Preparation Time:

30 to 45 minutes

---

Learning Time:

10 to 30 minutes

---

Estimated Materials Cost:

$1 - $5 per student

---

Age Range:

Ages 8 - 14

---

Resource Types:

Activity, Model

---

Language:

English
Materials List (per student)
---
4 to 6 ounces of play dough or clay depending on the number of chromosomes needed. Play dough works well because it hardens and the "chromosomes" then hold their shape.
Smooth clean surface at least 12" by 12". A tray works well to define the space.
Raised line images of karyotypes, some unsorted and others organized into a karyotype.
Subjects
---
Life Sciences

Cells

Cell Structure and Function
Cell Division

Heredity and Genetics

The Nature of Science

The Scientific Process

Conducting Investigations
Audience
---
To use this activity, learners need to:
Learning styles supported:
Involves hands-on or lab activities
Other
---
Components that are part of this resource:
Access Rights:
By:
Rights:
All rights reserved, Perkins School for the Blind,