---
Add to list
Go to activity
Activity link broken? See if it's at the internet archive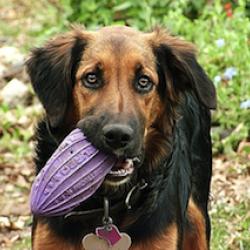 This activity (on page 2 of the PDF under SciGirls Activity: Colorblind Dogs) is a full inquiry investigation into dogs' ability (or inability) to see color. Learners conduct an experiment by first performing a control test and then experimenting to see if dogs are able to fetch colored balls amid a background of gray balls. Learners collect, record, and graph the data to draw conclusions about colorblindness in dogs. Relates to linked video, DragonflyTV: Colorblind Dogs.
Quick Guide

---

Preparation Time:

Under 5 minutes

---

Learning Time:

2 to 4 hours

---

Estimated Materials Cost:

$10 - $20 per group of students

---

Age Range:

Ages 8 - 14

---

Resource Types:

Activity, Experiment/Lab Activity

---

Language:

English
Materials List (per group of students)
---
20 tennis balls
swatches of colored cloth in shades of gray, green, pink, yellow, blue, and red to cover the tennis balls; 15 gray swatches, then one each of the other colors
a dog or two!
Subjects
---
Life Sciences
Mathematics

Data Analysis and Probability

Data Analysis
Data Collection
Data Representation

Measurement
Representation

Physical Sciences

Vibration and Waves
Light and Optics

The Nature of Science

The Scientific Process

About Inquiry
Asking Questions
Conducting Investigations
Gathering Data
Formulating Explanations
Communicating Results
Audience
---
To use this activity, learners need to:
see
see color
read
be mobile
touch
Learning styles supported:
Involves hands-on or lab activities
Culture, ethnicity, and gender
Girls

Explicity developed for this group
Acknowledges this group's contributions to STEM
Highlights STEM opportunities for this group
Identifies role models or mentors in STEM fields from this group
Uses inclusive images of people from this group
Other
---
Components that are part of this resource:
This resource is part of:
Access Rights:
By:
Source Collection
Rights:
All rights reserved, Twin Cities Public Television, Inc., 2005
Funding Source:
National Science Foundation, 436260