---
Add to list
Go to activity
Activity link broken? See if it's at the internet archive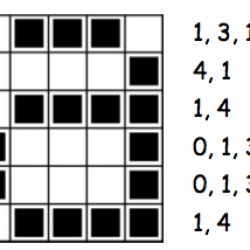 This activity shows learners how computers use numbers to represent pictures. A grid is used to represent the pixels (short for picture elements) of a computer screen. Numbers indicate whether pixels should be black or white. Learners decode a few pictures and create their own and as an extension can create a color picture beyond just black and white. The activity references fax machines, but the same principles are used by all computer-driven displays.
Quick Guide

---

Preparation Time:

Under 5 minutes

---

Learning Time:

30 to 45 minutes

---

Estimated Materials Cost:

1 cent - $1 per student

---

Age Range:

Ages 6 - adult

---

Resource Types:

Activity, Lesson/Lesson Plan

---

Language:

English, French, Italian
Materials List (per student)
---
OHP (Overhead Projector) transparency made from OHP Master: Colour by numbers (page 16)
Worksheet Activity: Kid Fax (page 17)
Worksheet Activity: Make your own picture (page 18)
Subjects
---
Engineering and Technology
Mathematics

Data Analysis and Probability
Informal Categories
---
Arts and Crafts
Computers
Audience
---
To use this activity, learners need to:
Learning styles supported:
Involves hands-on or lab activities
Other
---
Foreign language versions of this resource:
Components that are part of this resource:
Includes alignment to state and/or national standards:
This resource is part of:
Access Rights:
By:
Bell, Tim ; Witten, Ian ; Fellows, Mike ; Adams, Robyn ; McKenzie, Jane
Rights:
Funding Sources:
Brian Mason Scientific and Technical Trust
Google Inc.