---
Add to list
Go to activity
Activity link broken? See if it's at the internet archive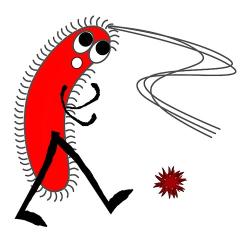 In this activity related to microbes, learners create scale models of microorganisms and compare relative sizes of common bacteria, viruses, fungi and protozoa using metric measures: meters, centimeters and micrometers. Learners will discover that microbes come in many different sizes and shapes, and frequently are measured in micrometers. This lesson guide includes background information and handouts.
Quick Guide

---

Preparation Time:

10 to 30 minutes

---

Learning Time:

45 to 60 minutes

---

Estimated Materials Cost:

1 cent - $1 per group of students

---

Age Range:

Ages 8 - 14

---

Resource Types:

Activity, Lesson/Lesson Plan, Model

---

Language:

English
Materials List (per group of students)
---
Paper square (2.5 m x 2.5 m)
Set of 4 prepared text strips
4 hand lenses (magnifiers)
4 metric rulers marked in millimeters
4 pairs of scissors
Assorted markers or colored pencils
Meter stick
Paper or science notebook
Several sheets of colored or plain paper, or roll of chart or kraft paper
Tape or glue
Copy of the Microbe Scaling Chart student sheet
Group concept map (ongoing, if available)
Subjects
---
Engineering and Technology
Life Sciences

Diversity of Life

Viruses and Bacteria
Protists and Fungi
Classification

Ecology

Mathematics

Data Analysis and Probability
Measurement

Units of Measurement
Size and Scale
Circles

Representation

Physical Sciences
The Nature of Science

The Scientific Process

Conducting Investigations
Informal Categories
---
Arts and Crafts
Model Building
Audience
---
To use this activity, learners need to:
Learning styles supported:
Involves teamwork and communication skills
Involves hands-on or lab activities
Other
---
Components that are part of this resource:
Includes alignment to state and/or national standards:
Includes assesments for student learning:
This resource is part of:
Access Rights:
By:
Moreno, Nancy P. ; Tharp, Barbara Z. ; Erdmann, Deanne B. ; Clayton, Sonia Rahmati ; Denk, James P.
Rights:
All rights reserved, Baylor College of Medicine, 2008
Funding Source:
Science Education Partnership Award, 5R25 RR018605