---
Add to list
Go to activity
Activity link broken? See if it's at the internet archive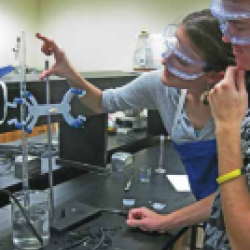 The objective of this inquiry-based lesson is for learners to gain an understanding of how increasing ocean acidity can affect the calcification of marine organisms. During this activity, learners: (1) design an experiment to quantify the CaCO3 concentration of two invertebrate skeletal samples, one that has been soaked in normal seawater and another in a low pH solution, and (2) use critical thinking and discussion to evaluate possible explanations for the difference in the skeletal CaCO3 compositions. This lesson plan includes a post-activity demonstration, which shows how the dissolution of CO2 into the ocean lowers pH.
Quick Guide

---

Preparation Time:

4 to 24 hours

---

Learning Time:

2 to 4 hours

---

Estimated Materials Cost:

Over $20 per group of students

---

Age Range:

Ages 14 - adult

---

Resource Types:

Activity, Experiment/Lab Activity, Lesson/Lesson Plan

---

Language:

English
Materials List (per group of students)
---
Samples of cuttlefish bone, coral, and shells from crab, shrimp, clam, mussel, snail, and oyster.
Gloves, goggles, aprons
Vinegar (or dilute HCl) for instructor to prepare "low pH condition" samples
HCl (3 M solution)
Thin-stem pipettes (~ 4 ml)
Electronic balance (precision of ± 1 mg)
Mortar and pestle
Beakers of various sizes (50 ml, 250 ml)
Graduated cylinders (10 ml, 50 ml)
Fume hood
Watch glasses
Balloons
Drying paper
Rubber spatula
Stirring rod
Filter paper and weigh paper
Funnel
Clear plastic cups
Straws
Freshwater pH indicator solution (for aquarium) with color pH scale
Tap water
Subjects
---
Earth and Space Science
Life Sciences

Diversity of Life
Ecology

Ecosystems
Populations
Human Impact

Physical Sciences

Chemistry

Chemical Reactions
Acids and Bases
Chemistry of Life

States of Matter
Structure and Properties of Matter

The Nature of Science

Science and Society
The Scientific Process

Asking Questions
Conducting Investigations
Gathering Data
Formulating Explanations
Communicating Results
Informal Categories
---
Animals
Nature and Environment
Audience
---
To use this activity, learners need to:
Learning styles supported:
Involves teamwork and communication skills
Involves hands-on or lab activities
Other
---
Access Rights:
By:
Boleman, Casey L. ; Gravinese, Philip M. ; Muse, Ellen N. ; Marston, Andrea E. ; Windsor, John G.
Rights:
All rights reserved, The Oceanography Society, 2013