---
Add to list
Go to activity
Activity link broken? See if it's at the internet archive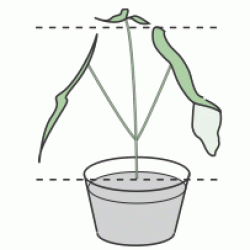 In this food science activity, learners conduct an experiment that demonstrates the importance of light to plants. This 1-2 week activity allows learners to learn about the needs of plants and plant growth. This lesson guide includes background information, variation ideas, and bilingual (English/Spanish) handouts.
Quick Guide

---

Preparation Time:

10 to 30 minutes

---

Learning Time:

1 to 4 weeks

---

Estimated Materials Cost:

$5 - $10 per group of students

---

Age Range:

Ages 8 - 14

---

Resource Types:

Activity, Experiment/Lab Activity, Lesson/Lesson Plan

---

Language:

English, Spanish
Materials List (per group of students)
---
12 soaked bean seeds
4 dry bean seeds
4 hand lenses (magnifiers)
4 peat pots (3-in. size), or disposable cups
4 pieces of string or yarn (each approx. 6-in. in length)
2 cups of moistened soil
Dispensing bottle (2-oz. size) or dropper
Metric ruler
Copies of student sheets
Subjects
---
Life Sciences

Cells
Diversity of Life
Ecology

Energy Flow and Chemical Cycles

Human Body

Physical Sciences

Energy
Chemistry
Vibration and Waves
Light and Optics

Mathematics

Data Analysis and Probability

Data Analysis
Data Collection
Data Representation

Measurement
Number and Operations
Reasoning and Proof
Representation

The Nature of Technology
The Nature of Science

The Scientific Process

Conducting Investigations
Gathering Data
Formulating Explanations
Communicating Results
Informal Categories
---
Food and Cooking
Gardening
Nature and Environment
Audience
---
To use this activity, learners need to:
Learning styles supported:
Involves teamwork and communication skills
Involves hands-on or lab activities
Other
---
Foreign language versions of this resource:
Components that are part of this resource:
Includes assesments for student learning:
This resource is part of:
Access Rights:
By:
Moreno, Nancy P. ; Tharp, Barbara Z.
Rights:
All rights reserved, Baylor College of Medicine, 2011
Funding Sources:
National Institute of Environmental Health Sciences, R25 ES10698
National Center for Research Resources, R25 RR13454