---
Add to list
Go to activity
Activity link broken? See if it's at the internet archive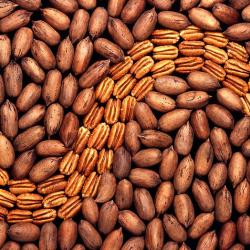 In this activity about the relationship between food and energy (page 5 of PDF), learners conduct an experiment to compare how much energy is released as heat from two different foods. This activity introduces learners to the concept of "calorie" and allows them to compare the relative amounts of energy in similar-sized portions of a carbohydrate-based food (oat cereal) and a food rich in oils (pecan). This guide includes background information, setup and management tips, a link to a NASA Connect online episode, extensions, and a handout. Note: this activity involves an open flame; learners should wear goggles and conduct the activity on a nonflammable, flat surface.
Quick Guide

---

Preparation Time:

10 to 30 minutes

---

Learning Time:

45 to 60 minutes

---

Estimated Materials Cost:

$1 - $5 per group of students

---

Age Range:

Ages 8 - 14

---

Resource Types:

Activity, Experiment/Lab Activity, Lesson/Lesson Plan

---

Language:

English
Materials List (per group of students)
---
Prepared soft drink can (see Setup)
Pencil (to be used as a holder for can)
Graduated cylinder or beaker
6-in. thermometer (Celsius)
2 pieces of round unsweetened oat cereal ("Cheerios")
1/2 pecan (without shell)
Large paper clips
2-cm piece of clay
Matches or birthday candles
Safety goggles
Water
Copy of student sheet (p. 7 of PDF)
Subjects
---
Life Sciences

Cells
Ecology

Energy Flow and Chemical Cycles

Human Body

Physical Sciences

Heat and Thermodynamics
Energy
Chemistry

Mathematics

Data Analysis and Probability

Data Analysis
Data Collection
Data Representation

Measurement

The Nature of Science

The Scientific Process

Conducting Investigations
Gathering Data
Formulating Explanations
Communicating Results
Audience
---
To use this activity, learners need to:
Learning styles supported:
Involves teamwork and communication skills
Uses STEM to solve real-world problems
Involves hands-on or lab activities
Other
---
Components that are part of this resource:
Includes alignment to state and/or national standards:
This resource is part of:
Access Rights:
By:
Moreno, Nancy P. ; Clayton, Sonia Rahmati ; Cutler, Paula H. ; Young, Martha S. ; Tharp, Barbara Z.
Rights:
All rights reserved, Baylor College of Medicine, 2009
Funding Source: