---
Add to list
Go to activity
Activity link broken? See if it's at the internet archive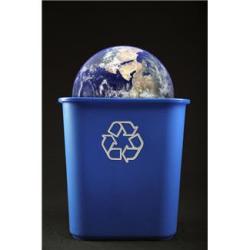 In this activity with several mini experiments, learners explore the chemistry that helps scientists learn about the environment and how they can help save it. Learners will determine if pollutants that have entered the ground water can also enter plants. Then, learners examine fossils to see if any changes have occurred over time in a particular species of sea mollusks. Finally, learners act as chemists to recycle paper by making paper from toilet paper.
Quick Guide

---

Preparation Time:

10 to 30 minutes

---

Learning Time:

4 to 24 hours

---

Estimated Materials Cost:

$1 - $5 per group of students

---

Age Range:

Ages 8 - 14

---

Resource Types:

Activity, Experiment/Lab Activity, Lesson/Lesson Plan

---

Language:

English
Materials List (per group of students)
---
1 btl. food coloring
1 plastic fork
1 beaker
1 mesh screen
1 rolling pin
1 tub play dough
3 shells: A, B, C
1 stencil: flower
2 safety goggles
water
notebook
scissors
paper
towels
toilet paper
Subjects
---
Earth and Space Science
Life Sciences

Diversity of Life
Ecology

Engineering and Technology

Engineering

Chemical Engineering
Environmental Engineering

Physical Sciences
The Nature of Science

The Scientific Process

Conducting Investigations
Formulating Explanations
Communicating Results

Science as a Career

The Nature of Technology

Technology and Society

Technology and the Environment
Informal Categories
---
Animals
Arts and Crafts
Nature and Environment
Audience
---
To use this activity, learners need to:
Learning styles supported:
Uses STEM to solve real-world problems
Involves hands-on or lab activities
Other
---
Components that are part of this resource:
This resource is part of:
Access Rights:
By:
Shaw, Maisie ; Gomez, Maria
Rights:
All rights reserved, Passport to Chemistry Adventure Program, Mount Holyoke College, 2010
Funding Source:
Camille and Henry Dreyfus Foundation, Inc.