---
Add to list
Go to activity
Activity link broken? See if it's at the internet archive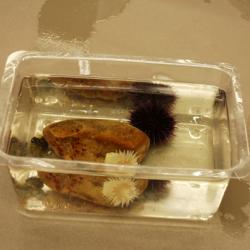 This is a guide for facilitating interaction at a touch tank with marine animals. The instructions are for setting up a display in an informal science center, but could work anywhere. Both initiating and follow-up questions are included for helping learners make observations and speculations about an animal's functions and habitat. General background information is provided about stresses animals experience in a marine environment, including tides, waves, drying out, and substrates to attach to. Specific information to display is provided for five representative organisms: Gumboot Chiton, Rock Crab, Sea Star, Hermit Crab, and Flat Fish.
Quick Guide

---

Preparation Time:

10 to 30 minutes

---

Learning Time:

10 to 30 minutes

---

Estimated Materials Cost:

$1 - $5 per group of students

---

Age Range:

Ages 4 - adult

---

Resource Types:

Activity, Exhibit, Lesson/Lesson Plan

---

Language:

English
Materials List (per group of students)
---
Touch tank containing one or more marine animals. (A small number or variety is preferable for learner focus.)
Standing tabletop signs or posters with a picture of the organism and its name and maybe a few questions related to that organism.
Information cards (5 representative cards in PDF)
Hand washing station or facilities nearby.
Examples of internal hard parts from the organisms, such as fish bones or chiton plates. *Note: Ideally a Hard Parts artifact cart and books about each organism could be located nearby for further related investigations.
Tables: at least one for the organisms, and another table set apart for information about each animal.
Subjects
---
Earth and Space Science

Earth Structure

Rocks and Minerals
Oceans and Water

Earth, Moon and Sun

Life Sciences

Diversity of Life
Ecology

The Nature of Science

The Scientific Process

Asking Questions
Formulating Explanations
Audience
---
To use this activity, learners need to:
Learning styles supported:
Involves hands-on or lab activities
Other
---
Includes alignment to state and/or national standards:
This resource is part of:
Access Rights:
By:
Rights:
Funding Source:
National Science Foundation, NSF OCE-0731338