---
Add to list
Go to activity
Activity link broken? See if it's at the internet archive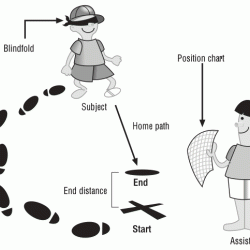 In this activity, learners play a series of simple games to investigate navigation without visual and sound cues. Learners will explore how well the central nervous system is able to estimate position based on information other than visual and sound cues. This lesson guide includes evaluation questions with answers and handouts.
Quick Guide

---

Preparation Time:

10 to 30 minutes

---

Learning Time:

45 to 60 minutes

---

Estimated Materials Cost:

$1 - $5 per group of students

---

Age Range:

Ages 8 - 18

---

Resource Types:

Activity, Experiment/Lab Activity, Lesson/Lesson Plan

---

Language:

English
Materials List (per group of students)
---
Measuring tape
Timer (watch or clock with second hand)
Graph paper
Pencils (or pens/chalk)
Bell
Blindfolds
Candy to reward for foraging
Statistical calculator
Activity Sheets
Subjects
---
Life Sciences

Human Body

The Brain and Nervous System

Human Senses and Perception

Mathematics

Algebra
Data Analysis and Probability

Data Analysis
Data Collection
Data Representation

Geometry
Measurement
Number and Operations

The Nature of Technology
The Nature of Science

The Scientific Process

Conducting Investigations
Gathering Data
Formulating Explanations
Communicating Results
Audience
---
To use this activity, learners need to:
see
read
hear
be mobile
touch
Learning styles supported:
Involves teamwork and communication skills
Involves hands-on or lab activities
Other
---
Includes alignment to state and/or national standards:
This resource is part of:
Access Rights:
By:
MacLeish, Ed.D., Marlene Y. ; McLean, M.Ed., Bernice R.
Rights: