---
Add to list
Go to activity
Activity link broken? See if it's at the internet archive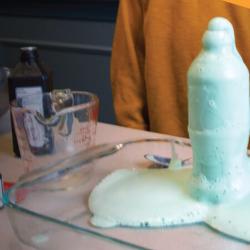 In this activity, learners create a colorful foam fountain by adding yeast to a chemical reaction. This activity introduces chemical reactions to young learners and teaches the concept of catalysts. Activity includes step-by-step instructions, questions to engage learners, and an explanation of the science behind the activity. This activity uses low cost materials and can be done at home. Safety notice: This activity uses hydrogen peroxide-do not use solutions of hydrogen peroxide greater than 6% concentration.
Quick Guide

---

Preparation Time:

Under 5 minutes

---

Learning Time:

10 to 30 minutes

---

Estimated Materials Cost:

$5 - $10 per group of students

---

Age Range:

Ages 4 - 11

---

Resource Type:

Activity

---

Language:

English
Materials List (per group of students)
---
1 (one) 20oz ounce bottle- rinsed out and dry
Dish soap
Food coloring
¼ cup warm water
Small bowl
Funnel (or make one by rolling a sheet of paper)
Large rectangular baking pan (to contain mess)
Measuring cup
½ cup hydrogen peroxide, 3% or 6% solution *Do not use solutions greater than 6%
1 packet active dry yeast
Optional: Additional 20 oz bottles of both 3% and 6% hydrogen peroxide can be used to make the project more challenging.
Other
---
This resource is part of:
Access Rights:
By:
Source Collection
Rights:
All rights reserved, 4-H, 2020
Funding Source: