---
Add to list
Go to activity
Activity link broken? See if it's at the internet archive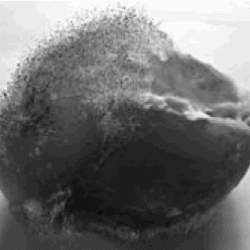 In this environmental health activity, learners grow and observe bread mold and other kinds of common fungi over the course of 3-7 days. This lesson guide includes background information, variations and bilingual (English/Spanish) handouts. Note: if you do not wish to grow bread mold, pure cultures can be purchased.
Quick Guide

---

Preparation Time:

5 to 10 minutes

---

Learning Time:

1 to 7 days

---

Estimated Materials Cost:

1 cent - $1 per group of students

---

Age Range:

Ages 8 - 14

---

Resource Types:

Activity, Experiment/Lab Activity, Lesson/Lesson Plan

---

Language:

English, Spanish
Materials List (per group of students)
---
Transparency of "Common Bread Mold" student sheet
Bread mold, Rhizopus stolonifer (optional, order from a science educational supply company)
Piece of old bread
Pipet or dropper
Clear resealable plastic bags, 4 in. x 6 in. (or small jars or plastic containers)
Hand lenses (magnifiers) or 6 microscopes
Disposable plastic gloves (optional)
Copies of student sheets
Subjects
---
Life Sciences

Diversity of Life
Ecology
Human Body

Health and Nutrition
Immune System

Mathematics

Data Analysis and Probability

Data Analysis
Data Collection
Data Representation

The Nature of Science

The Scientific Process

Conducting Investigations
Gathering Data
Formulating Explanations
Communicating Results
Audience
---
To use this activity, learners need to:
Learning styles supported:
Involves teamwork and communication skills
Involves hands-on or lab activities
Other
---
Foreign language versions of this resource:
Components that are part of this resource:
Includes assesments for student learning:
This resource is part of:
Access Rights:
By:
Moreno, Nancy P. ; Tharp, Barbara Z. ; Dresden, Judith H.
Rights:
All rights reserved, Baylor College of Medicine, 2010
Funding Sources:
National Institute of Environmental Health Sciences, R25 ES06932
National Institute of Environmental Health Sciences, R25 ES010698