---
Add to list
Go to activity
Activity link broken? See if it's at the internet archive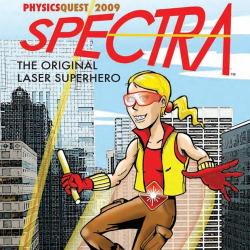 Learners experiment to see which colors of light will cause a phosphorescent (glow-in-the-dark) material to glow. Different colors of light have different wavelengths, and different amounts of energy. Only the colors which shine with sufficient energy can charge up the phosphorescent material enough to glow in the dark. This activity starts on p.26 of the manual. This manual contains four activities related to the Spectra: The Original Laser Superhero Force comic book published by the American Physical Society.
Quick Guide

---

Preparation Time:

Under 5 minutes

---

Learning Time:

10 to 30 minutes

---

Estimated Materials Cost:

$10 - $20 per group of students

---

Age Range:

Ages 11 - 14

---

Resource Types:

Activity, Experiment/Lab Activity, Lesson/Lesson Plan

---

Language:

English
Materials List (per group of students)
---
Phosphorescent vinyl
Red, blue, yellow, and violet gel filters
Laser pointer
White light
Dark room
Subjects
---
Physical Sciences

Vibration and Waves
Light and Optics

The Nature of Science

The Scientific Process

Conducting Investigations
Gathering Data
Formulating Explanations
Audience
---
To use this activity, learners need to:
Learning styles supported:
Involves hands-on or lab activities
Other
---
Components that are part of this resource:
This resource is part of:
Access Rights:
By:
Thompson-Flagg, Rebecca ; Johnson, Kerry G.
Rights:
All rights reserved, American Physical Society, 2010