---
Add to list
Go to activity
Activity link broken? See if it's at the internet archive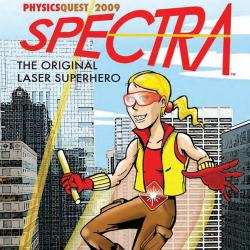 In this activity on page 13 of the PDF, learners use a laser pointer (with known wavelength of light) to measure the thickness of a human hair. By shining the laser on a hair, analyzing the patterns created, and completing some calculations, learners the thickness of a hair in nanometers. Learners can calibrate the laser to find its wavelength by completing the first activity in the manual entitled, "Spots, Lines and Lasers." This manual contains 4 activities related to the Spectra: The Original Laser Superhero Force comic book published by the American Physical Society.
Quick Guide

---

Preparation Time:

Under 5 minutes

---

Learning Time:

10 to 30 minutes

---

Estimated Materials Cost:

$5 - $10 per group of students

---

Age Range:

Ages 11 - 14

---

Resource Types:

Activity, Experiment/Lab Activity, Lesson/Lesson Plan

---

Language:

English
Materials List (per group of students)
---
Laser pointer
Masking tape
Large sheet of paper
Human hair
2 binder clips
Scissors
Pencil
Index card
Metric ruler
Subjects
---
Engineering and Technology
Mathematics

Measurement

Units of Measurement
Size and Scale

Physical Sciences

Vibration and Waves

Diffraction and Interference

Light and Optics
Audience
---
To use this activity, learners need to:
Learning styles supported:
Involves hands-on or lab activities
Other
---
Components that are part of this resource:
This resource is part of:
Access Rights:
By:
Thompson-Flagg, Rebecca ; Johnson, Kerry G.
Rights:
All rights reserved, American Physical Society, 2010