---
Add to list
Go to activity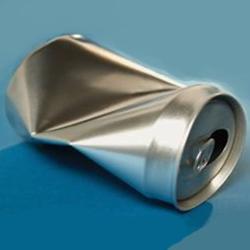 In this dramatic activity/demonstration about phase change and condensation, learners place an aluminum can filled with about two tablespoons of water on a stove burner. When steam begins to exit the opening of the can, learners will turn off the stove, pick up the can with an oven mitt and immediately place the can in a bowl of cold water. To everyone's surprise, the can will implode! Note: this activity requires adult supervision. [Activity is publicly available through a web crawler capture on Archive.org.]
Quick Guide

---

Preparation Time:

Under 5 minutes

---

Learning Time:

5 to 10 minutes

---

Estimated Materials Cost:

free per group of students

---

Age Range:

Ages 8 - 14

---

Resource Types:

Activity, Demonstration

---

Language:

English
Materials List (per group of students)
---
One aluminum can
One oven mitt or other hand protection
Some tap water
A stovetop burner (electric or gas is OK)
One bowl of cold water. The bowl must be able to hold at least 20 ounces of water. Try using a sauce pan that holds a few quarts of water.
Subjects
---
Physical Sciences

Heat and Thermodynamics

Heat and Temperature
Thermodynamics and Entropy

States of Matter

Liquids
Gases
Changes of Phase

The Nature of Science

The Scientific Process

Conducting Investigations
Audience
---
To use this activity, learners need to:
Learning styles supported:
Involves hands-on or lab activities
Other
---
Access Rights:
By:
Rights:
All rights reserved, Little Shop of Physics, 2009