---
Add to list
Go to activity
Activity link broken? See if it's at the internet archive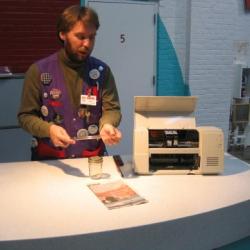 In this activity, learners investigate how inkjet printers produce tiny, precise drops of ink. They examine printed paper with magnifying glasses, see a few demonstrations of how liquids behave differently at small scales, and see an explosive demonstration of how ink is forced out of an ink cartridge. This is a fun way to talk about how phenomena like surface tension become more important at small scales. Safety note: the demonstration involves fire—use appropriate caution.
Quick Guide

---

Preparation Time:

5 to 10 minutes

---

Learning Time:

10 to 30 minutes

---

Estimated Materials Cost:

$10 - $20 per group of students

---

Age Range:

Ages 4 - adult

---

Resource Types:

Activity, Demonstration, Lesson/Lesson Plan

---

Language:

English
Materials List (per group of students)
---
A broken inkjet printer with empty ink cartridges
A bucket of water (a clear bucket is best)
Washable watercolor paint or food coloring
Magnifying glass
Flyers printed in color, especially with photos
Mason jar
Wire screen cut to fit mason jar lid (screen with holes 2 mm wide at most)
Wide tube that doesn't show capillary action (meniscus)
Toothpicks
Butane lighter or matches
Scrap paper
Assorted relevant photos or powerpoint presentation and projector.
Subjects
---
Engineering and Technology

Computing
Engineering

Manufacturing Engineering
Nanotechnology

Technology

Physical Sciences

Heat and Thermodynamics

Heat and Temperature
Heat Transfer

Motion and Forces
Audience
---
To use this activity, learners need to:
Learning styles supported:
Involves hands-on or lab activities
Other
---
Components that are part of this resource:
This resource is part of:
Access Rights:
By:
Rights:
Funding Sources:
National Science Foundation, 0532536
National Science Foundation, 0940143