---
Add to list
Go to activity
Activity link broken? See if it's at the internet archive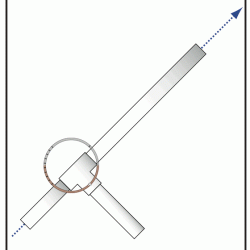 In this activity, learners construct hand-held altitude trackers. The device is a sighting tube with a marked water level that permits measurement of the inclination of the tube. Learners can use these tools in related activities to measure the altitude achieved by the rockets they construct. Launching can be conducted in an open space, indoors or outdoors.
Quick Guide

---

Preparation Time:

Under 5 minutes

---

Learning Time:

1 to 2 hours

---

Estimated Materials Cost:

$5 - $10 per group of students

---

Age Range:

Ages 8 - 18

---

Resource Types:

Activity, Lesson/Lesson Plan

---

Language:

English
Materials List (per group of students)
---
1/2 in PVC pipe (2 6 in -long pieces, 1 12 in -long piece)
1/2 in PVC tee connector
10 in -length of aquarium airline hose (clear vinyl)
1 Straight Airline Connector
Water and food coloring
Permanent marker
Marking Diagram
Tape measures
Tangent tables
Calculators (optional)
Pencils
Subjects
---
Earth and Space Science

Astronomy

Probes, Satellites and Spacecraft

Earth Processes

Engineering and Technology

Engineering

Aerospace Engineering
Transportation Engineering

Mathematics

Data Analysis and Probability

Data Analysis
Data Collection
Data Representation

Measurement
Number and Operations

Decimals
Fractions
Operations

Reasoning and Proof
Representation

The Nature of Technology

The Design Process

Troubleshooting and Maintenance

Physical Sciences

Motion and Forces

Projectile Motion
Newton's Laws

The Nature of Science

The Scientific Process

Conducting Investigations
Gathering Data
Formulating Explanations
Communicating Results
Informal Categories
---
Outdoor Activity
Transportation
Audience
---
To use this activity, learners need to:
Learning styles supported:
Involves hands-on or lab activities
Other
---
Components that are part of this resource:
Includes alignment to state and/or national standards:
Includes assesments for student learning:
This resource is part of:
Access Rights:
By:
Shearer, Deborah A. ; Vogt, Ed.D., Gregory L.
Rights: