---
Add to list
Go to activity
Activity link broken? See if it's at the internet archive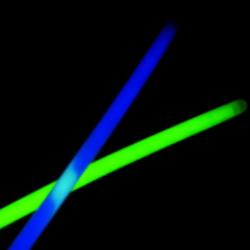 In this two-part activity about luminescence, learners explore the chemistry that happens inside glow sticks and other light producing reactions. First, learners build a ground state model and a excited state model of light. Then, learners use glow sticks to perform chemical reactions to make light (chemiluminescence) and test how well the reactions work at different temperatures. These activities are part of the "Passport to Chemistry Adventure" kit but the kit is not necessary to have in order to facilitate the activities.
Quick Guide

---

Preparation Time:

10 to 30 minutes

---

Learning Time:

1 to 2 hours

---

Estimated Materials Cost:

$1 - $5 per group of students

---

Age Range:

Ages 8 - 14

---

Resource Types:

Activity, Experiment/Lab Activity, Lesson/Lesson Plan, Model

---

Language:

English
Materials List (per group of students)
---
3 glow sticks
1 beaker and cap
2 wall and 2 energy level pieces
2 
pom
 poms
1 pipe cleaner
2 safety goggles
water
freezer
notebook
scissors
Velcro dots
Subjects
---
Mathematics

Data Analysis and Probability

Data Analysis
Data Collection

Measurement

Physical Sciences

Heat and Thermodynamics
Energy
Chemistry
Vibration and Waves
Structure and Properties of Matter

Elementary Particles and Nuclear Physics

The Nature of Science

The Scientific Process

Conducting Investigations
Gathering Data
Formulating Explanations
Communicating Results
Audience
---
To use this activity, learners need to:
Learning styles supported:
Involves hands-on or lab activities
Other
---
Components that are part of this resource:
This resource is part of:
Access Rights:
By:
Shaw, Maisie ; Gomez, Maria
Rights:
All rights reserved, Passport to Chemistry Adventure Program, Mount Holyoke College, 2010
Funding Source:
Camille and Henry Dreyfus Foundation, Inc.