---
Add to list
Go to activity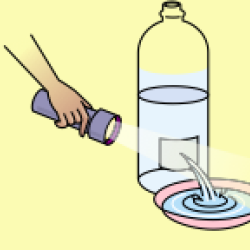 In this optics activity, learners make a "light fountain" from a clear plastic bottle, flashlight, and other simple materials. Use this activity to illustrate light reflection, specifically total internal reflection, as well as how fiber optics work.
Quick Guide

---

Preparation Time:

Under 5 minutes

---

Learning Time:

5 to 10 minutes

---

Estimated Materials Cost:

1 cent - $1 per student

---

Age Range:

Ages 8 - 14

---

Resource Type:

Activity

---

Language:

English
Materials List (per student)
---
Clear plastic bottle with label removed
Duct tape
Blue painter's tape
Dark room
Sink or bucket
Thumbtack
Corkscrew
Flashlight
Subjects
---
Engineering and Technology

Engineering
Technology

Information and Communication

Life Sciences

Human Senses and Perception

Physical Sciences

Vibration and Waves
Light and Optics

Reflection and Refraction

The Nature of Science

The Scientific Process

Conducting Investigations
Audience
---
To use this activity, learners need to:
Learning styles supported:
Involves hands-on or lab activities
Other
---
Components that are part of this resource:
This resource is part of:
Access Rights:
By:
Walter, Pamela J. ; Paddock, Bruce T.
Rights:
All rights reserved, Optical Society of America, 2008