---
Add to list
Go to activity
Activity link broken? See if it's at the internet archive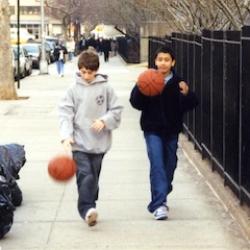 In this outdoor activity (on page 2 of the PDF under GPS: Baseball Activity), learners will investigate the transfer of energy using sports equipment. Learners first measure how high different kinds of balls bounce compared to their release point and then repeat the testing but release two balls at once, one atop the other. Learners will observe some very surprising and entertaining results. While one ball will go sky high, there is also a measurable difference in the bounce of the bottom ball. Relates to the linked video, DragonflyTV GPS: Baseball.
Quick Guide

---

Preparation Time:

Under 5 minutes

---

Learning Time:

30 to 45 minutes

---

Estimated Materials Cost:

free per group of students

---

Age Range:

Ages 8 - 14

---

Resource Type:

Activity

---

Language:

English
Materials List (per group of students)
---
safety goggles
golf ball
baseball
basketball
tape measure, or yardstick/meterstick
lots of space outside!
Subjects
---
Engineering and Technology
Mathematics

Data Analysis and Probability
Measurement

Physical Sciences

Energy

Potential and Kinetic Energy

Motion and Forces

Gravity
Momentum and Velocity

The Nature of Science

The Scientific Process

Asking Questions
Conducting Investigations
Gathering Data
Informal Categories
---
Outdoor Activity
Physical Activity
Sports and Exercise
Audience
---
To use this activity, learners need to:
Learning styles supported:
Involves teamwork and communication skills
Involves hands-on or lab activities
Other
---
Components that are part of this resource:
This resource is part of:
Access Rights:
By:
Source Collection
Rights:
All rights reserved, Twin Cities Public Television, Inc., 2006
Funding Source:
National Science Foundation, 515566