---
Add to list
Go to activity
Activity link broken? See if it's at the internet archive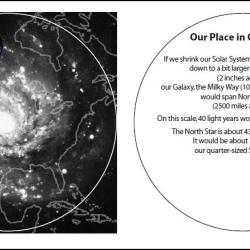 In this fun and simple hands-on astronomy activity, learners construct a model of our place in the Milky Way Galaxy and the distribution of stars, with a quarter and some birdseed. This is a great introduction to the distances of objects in the universe. This activity was designed for use with sky-viewing telescopes but can be adapted to many venues. The PDF contains step-by-step instructions, photos, presentation tips, background information, and ready-to-print activity handouts.
Quick Guide

---

Preparation Time:

5 to 10 minutes

---

Learning Time:

10 to 30 minutes

---

Estimated Materials Cost:

$5 - $10 per group of students

---

Age Range:

Ages 8 - adult

---

Resource Types:

Activity, Demonstration, Model

---

Language:

English
Materials List (per group of students)
---
one handout per learner: "Quarter-North America Galaxy Model" (from PDF)
printed cut sheets for our galaxy and other CDs with seasonal star charts (included)
Solar System Images sheet (from PDF)
15+ used CDs
Milo bird seed in plastic bag
Film canister or small scoop for bird seed
glue stick
scissors
(Optional) Hubble Ultra Deep Field card (from PDF)
(Optional) Telescope (not included in activity cost).
Subjects
---
Earth and Space Science

Astronomy

Stars and Galaxies
Probes, Satellites and Spacecraft

Solar System

Physical Sciences
Mathematics

Measurement
Representation

The Nature of Science

The Scientific Process

The Scientific Worldview
Formulating Explanations
Audience
---
To use this activity, learners need to:
Learning styles supported:
Involves hands-on or lab activities
Other
---
Components that are part of this resource:
This resource is part of:
Access Rights:
By:
Rights: