---
Add to list
Go to activity
Activity link broken? See if it's at the internet archive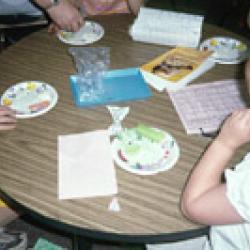 This exercise is designed to teach young learners the different parts of a plant (root, stems, leaves, flowers, fruit, and seeds), the basic functions of each part, and to show that tiny microscopic organisms ("germs") can cause each part of a plant to become diseased. The lesson shows learners the importance of understanding what causes plants to be sick and the need for scientists called plant pathologists to keep plants healthy. In part 1, learners discuss and look at examples of plants (anatomy, function and disease). In part 2, learners taste various parts of plants (i.e. carrot - root, celery - stem). This resource includes discussion questions with answers.
Quick Guide

---

Preparation Time:

10 to 30 minutes

---

Learning Time:

30 to 45 minutes

---

Estimated Materials Cost:

$5 - $10 per group of students

---

Age Range:

Ages 4 - 11

---

Resource Types:

Activity, Experiment/Lab Activity, Lesson/Lesson Plan

---

Language:

English
Materials List (per group of students)
---
Photographs (or live) of the diseased plant parts
Paper plates
Napkins
Bite-sized slice carrots, celery, lettuce, broccoli, cucumbers and popcorn (each in separate containers)
Salad dressing (Ranch dressing is best received by this age group)
Subjects
---
Life Sciences

Diversity of Life
Human Body

Health and Nutrition
Medicine

The Nature of Science
Informal Categories
---
Food and Cooking
Gardening
Nature and Environment
Audience
---
To use this activity, learners need to:
Learning styles supported:
Involves hands-on or lab activities
Other
---
Components that are part of this resource:
This resource is part of:
Access Rights:
By:
Elmer, Wade H. ; LaMondia, James A.
Rights:
All rights reserved, The American Phytopathological Society, 2011