---
Add to list
Go to activity
Activity link broken? See if it's at the internet archive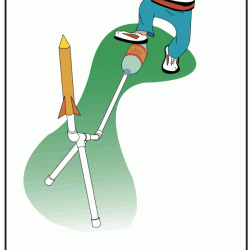 In this activity, learners construct a simple air pressure launcher for paper rockets. Learners stomp or jump on an empty 2-liter bottle and force the air inside through connected plastic pipes to propel a paper rocket. The launching activity should be done in an open space like a gymnasium or cafeteria or can be conducted outside on a calm day.
Quick Guide

---

Preparation Time:

10 to 30 minutes

---

Learning Time:

1 to 2 hours

---

Estimated Materials Cost:

$10 - $20 per group of students

---

Age Range:

Ages 4 - 14

---

Resource Types:

Activity, Lesson/Lesson Plan

---

Language:

English
Materials List (per group of students)
---
Empty (and rinsed) 2-liter plastic soft drink bottle
2 1/2" PVC tee connectors
2 1/2" PVC 45 degree elbows
2 1/2" PVC caps
1- 5' length of 1/2" PVC pipe
Duct tape
Ruler
Balloon or basketball hand pump
Rubber stopper or cork (#1 size, 1 hole)
Eye protection for anyone near launcher
Paper rockets
Fine-tooth saw or PVC cutter
Subjects
---
Earth and Space Science

Astronomy

Probes, Satellites and Spacecraft

Engineering and Technology
Mathematics
Physical Sciences
The Nature of Science

The Scientific Process

Conducting Investigations

The Nature of Technology
Informal Categories
---
Outdoor Activity
Physical Activity
Toys
Audience
---
To use this activity, learners need to:
Learning styles supported:
Involves hands-on or lab activities
Other
---
Includes alignment to state and/or national standards:
This resource is part of:
Access Rights:
By:
Shearer, Deborah A. ; Vogt, Ed.D., Gregory L.
Rights: