---
Add to list
Go to activity
Activity link broken? See if it's at the internet archive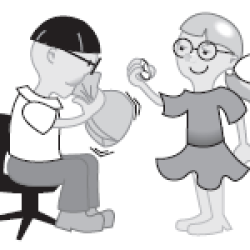 In this activity (on page 146 of the PDF), learners will explore the effects of increased carbon dioxide in the bloodstream. This activity can be enhanced by sharing the "Astronaut's Sleep" Podcast with learners (see related resource link). This resource guide includes background information and sample evaluation questions. Note: learners with respiratory ailments should not participate as subjects.
Quick Guide

---

Preparation Time:

Under 5 minutes

---

Learning Time:

45 to 60 minutes

---

Estimated Materials Cost:

1 cent - $1 per group of students

---

Age Range:

Ages 8 - 18

---

Resource Types:

Activity, Experiment/Lab Activity, Lesson/Lesson Plan

---

Language:

English
Materials List (per group of students)
---
Watch or access to a clock with a second hand
Chair
Pen or pencil
Note pad
Large paper bag
Subjects
---
Life Sciences

Cells
Human Body

The Brain and Nervous System
Circulation
Health and Nutrition
Respiration

Physical Sciences
Mathematics

Data Analysis and Probability

Data Analysis
Data Collection
Data Representation

Measurement
Reasoning and Proof
Representation

The Nature of Science

The Scientific Process

Conducting Investigations
Gathering Data
Formulating Explanations
Communicating Results
Audience
---
To use this activity, learners need to:
Learning styles supported:
Involves teamwork and communication skills
Involves hands-on or lab activities
Other
---
Includes alignment to state and/or national standards:
This resource is part of:
Access Rights:
By:
MacLeish, Marlene Y. ; McLean, Bernice R.
Rights: