---
Add to list
Go to activity
Activity link broken? See if it's at the internet archive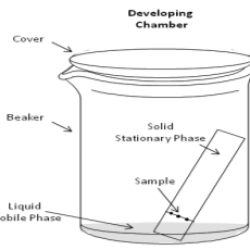 In this experiment, learners separate different types of molecules in marker inks (using a technique called "thin layer chromatography"). Learners mark dots at the bottom of a strip of paper (stationary phase) and put the paper into a cup of water (liquid mobile phase) to see how the inks separate. The experiment is repeated with more colors, then mixtures of colors. The final investigation is to figure out who took a cookie, by analyzing the ink used to write a note left in the cookie jar, and comparing the ink to markers taken from two suspects. The activity is written as part of a kit, but can be done without the kit.
Quick Guide

---

Preparation Time:

Under 5 minutes

---

Learning Time:

30 to 45 minutes

---

Estimated Materials Cost:

$1 - $5 per student

---

Age Range:

Ages 4 - 8

---

Resource Types:

Activity, Experiment/Lab Activity, Lesson/Lesson Plan

---

Language:

English
Materials List (per student)
---
1 
paper
 plate
1 
bottle
 of 
Isopropyl
 alcohol 
91%
1 
plastic
 cup
1
 piece
 of 
paper 
labeled: 
I 
took 
the
 cookie, 
cat
1
 piece
 of 
paper;
 blank
4
 crayola 
markers
1
 black 
pen
3
 blue
 pens
1
 red 
pen
water
Subjects
---
Physical Sciences

Chemistry
States of Matter
Structure and Properties of Matter

The Nature of Science

The Scientific Process

Asking Questions
Conducting Investigations
Gathering Data
Formulating Explanations
Audience
---
To use this activity, learners need to:
Learning styles supported:
Involves hands-on or lab activities
Other
---
Components that are part of this resource:
This resource is part of:
Access Rights:
By:
Shaw, Maisie ; Gomez, Maria
Rights:
All rights reserved, Passport to Chemistry Adventure Program, Mount Holyoke College, 2010
Funding Source:
Camille and Henry Dreyfus Foundation, Inc.