---
Add to list
Go to activity
Activity link broken? See if it's at the internet archive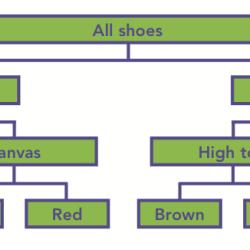 In this activity (on page 2 of the PDF under GPS: Cactus Activity), learners will develop their own version of a tool used by biologists, a dichotomous key, by collecting all their left shoes. Learners brainstorm different characteristics and decide how to divide the pile into two groups with a common characteristic. A chart should be made as they continue to divide each group in two until each shoe has its own group. Learners use the chart to identify each person's shoe. Relates to the linked video, DragonflyTV GPS: Cactus.
Quick Guide

---

Preparation Time:

Under 5 minutes

---

Learning Time:

10 to 30 minutes

---

Estimated Materials Cost:

free per group of students

---

Age Range:

Ages 8 - 14

---

Resource Types:

Activity, Lesson/Lesson Plan, Model

---

Language:

English
Materials List (per group of students)
---
a group of kids wearing shoes
chalkboard/chalk or whiteboard/marker or chart paper/pencil!
Subjects
---
Life Sciences

Diversity of Life
Ecology

Mathematics

Data Analysis and Probability

Data Analysis
Data Collection
Data Representation

The Nature of Science

The Scientific Process

Asking Questions
Gathering Data
Communicating Results
Audience
---
To use this activity, learners need to:
Learning styles supported:
Involves teamwork and communication skills
Involves hands-on or lab activities
Other
---
Components that are part of this resource:
This resource is part of:
Access Rights:
By:
Source Collection
Rights:
All rights reserved, Twin Cities Public Television, Inc., 2006
Funding Source:
National Science Foundation, 515566