---
Add to list
Go to activity
Activity link broken? See if it's at the internet archive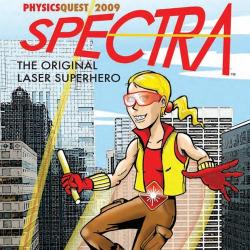 Learners shine the light of a laser pointer through sheets of fabric that all have a different number of threads per inch. By looking at the patterns created, learners calculate the wavelength of the laser. The kit for this activity is no longer available, but you can still complete it if you have four fabrics and you know how many threads per centimeter are in each fabric. This activity starts on p.6 of the manual. This manual contains four activities related to the Spectra: The Original Laser Superhero Force comic book published by the American Physical Society.
Quick Guide

---

Preparation Time:

Under 5 minutes

---

Learning Time:

10 to 30 minutes

---

Estimated Materials Cost:

$5 - $10 per group of students

---

Age Range:

Ages 11 - 14

---

Resource Types:

Activity, Experiment/Lab Activity, Lesson/Lesson Plan

---

Language:

English
Materials List (per group of students)
---
Laser pointer
Tape
4 small strips of cloth, each with a different, known thread count
2 binder clips
4 large sheets of paper
Meter stick
Diffraction Grating Cloth card
Subjects
---
Mathematics
Physical Sciences

Vibration and Waves
Light and Optics
Audience
---
To use this activity, learners need to:
Learning styles supported:
Involves hands-on or lab activities
Other
---
Components that are part of this resource:
This resource is part of:
Access Rights:
By:
Thompson-Flagg, Rebecca ; Johnson, Kerry G.
Rights:
All rights reserved, American Physical Society, 2010