---
Add to list
Go to activity
Activity link broken? See if it's at the internet archive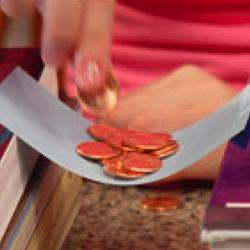 In this quick activity (page 1 of the PDF under SciGirls Activity: Tug O' War), learners will test how many pennies a flat paper index card bridging the gap between two stacks of books is able to support. Then, learners alter the structure of the same card by folding it accordion-style and retest by again stacking pennies on top. Learners look for a relationship between the number of folds and the number of pennies the card can hold by creating a scatter plot. Relates to the linked video, DragonflyTV: Tug O' War.
Quick Guide

---

Preparation Time:

Under 5 minutes

---

Learning Time:

10 to 30 minutes

---

Estimated Materials Cost:

1 cent - $1 per group of students

---

Age Range:

Ages 8 - 14

---

Resource Types:

Activity, Experiment/Lab Activity, Model

---

Language:

English
Materials List (per group of students)
---
several kitchen recipe cards (or index cards)
2 stacks of books
30 pennies, or more!
Subjects
---
Engineering and Technology
Mathematics

Data Analysis and Probability

Data Analysis
Data Collection
Data Representation

Geometry
Reasoning and Proof
Representation

The Nature of Technology

The Design Process

Troubleshooting and Maintenance

Physical Sciences

Structure and Properties of Matter

The Nature of Science

The Scientific Process

Conducting Investigations
Gathering Data
Formulating Explanations
Communicating Results
Audience
---
To use this activity, learners need to:
Learning styles supported:
Involves hands-on or lab activities
Culture, ethnicity, and gender
Girls

Highlights STEM opportunities for this group
Identifies role models or mentors in STEM fields from this group
Uses inclusive images of people from this group
Other
---
Components that are part of this resource:
This resource is part of:
Access Rights:
By:
Source Collection
Rights:
All rights reserved, Twin Cities Public Television, Inc., 2006
Funding Source:
National Science Foundation, 436260