---
Add to list
Go to activity
Activity link broken? See if it's at the internet archive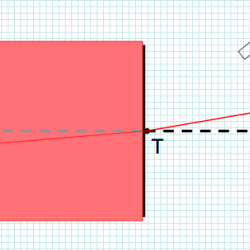 Can gelatin (like Jell-O ®) change the speed of light? Learners investigate the refraction properties of gelatin to calculate its index of refraction and discover that as the light travels through the gelatin, its speed and wavelength also change. This activity offers learners a challenge to find the index of refraction of an everyday, intriguing, translucent substance outside the standard listing of materials and refraction indexes.
Quick Guide

---

Preparation Time:

2 to 4 hours

---

Learning Time:

1 to 2 hours

---

Estimated Materials Cost:

$5 - $10 per group of students

---

Age Range:

Ages 14 - 18

---

Resource Types:

Activity, Experiment/Lab Activity, Lesson/Lesson Plan

---

Language:

English
Materials List (per group of students)
---
Wax paper sheets
Graph paper (1/4 inch ruled with blue ink)
Protractors
Scientific calculators (like a TI-30)
Protractors
Laser pointers
Binder clips big enough to grip the laser pointer and hold down the "on" switch.
Knox gelatin (8 x 7 ounce envelopes)
Desert gelatin with sugar (like Jell-O®) in red (strawberry) and yellow (pineapple).
Cookie sheet (1/2 to 3/4 inch deep, smooth and non-stick surface) or brownie pan (8 x 8inches, 2 inches deep)
3 gelatin pans, preferably 8 x 8 x 2 inch brownie pans
Measure cup with a 2-cup capacity
Cooking spray (like Pam®)
2 packages of Knox® plain gelatin (4 envelopes per pack)
1 package of red gelatin (Jell-O® strawberry works well). Not sugar free. 1 package of yellow gelatin (Jell-O® pineapple). Not sugar free.
Subjects
---
Earth and Space Science
Physical Sciences

Light and Optics

Lasers
Reflection and Refraction

Vibration and Waves
Motion and Forces

Mathematics

Algebra

Equations and Inequalities
Variables and Expressions

Data Analysis and Probability

Data Analysis
Data Collection
Data Representation

Geometry
Measurement

The Nature of Science

The Scientific Process

Conducting Investigations
Gathering Data
Formulating Explanations
Communicating Results
Audience
---
To use this activity, learners need to:
Learning styles supported:
Involves teamwork and communication skills
Involves hands-on or lab activities
Other
---
Components that are part of this resource:
Includes alignment to state and/or national standards:
This resource is part of:
Access Rights:
By:
The University of Texas McDonald Observatory
Rights:
All rights reserved, The University of Texas McDonald Observatory, 2011