---
Add to list
Go to activity
Activity link broken? See if it's at the internet archive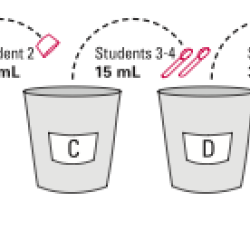 In this activity about the human heart (on page 5 of the PDF), learners work in teams to simulate the volume of blood moved through the circulatory system by transferring liquid into--and through--a series of containers. Learners will compete in a water relay race to model how the heart works. This lesson guide includes background information, setup and management tips, and a handout.
Quick Guide

---

Preparation Time:

5 to 10 minutes

---

Learning Time:

45 to 60 minutes

---

Estimated Materials Cost:

$1 - $5 per group of students

---

Age Range:

Ages 8 - 14

---

Resource Types:

Activity, Game, Lesson/Lesson Plan, Simulation

---

Language:

English
Materials List (per group of students)
---
Marker or labels for tubs
Timer of clock
6 tubs or buckets labeled A-F (5-liter capacity each)
4 flexible plastic cups (soft plastic that can be cut with scissors)
2 15-mL tablespoons for measuring
Graduated cylinder (100-mL or higher)
Pad of sticky notes
Pair of scissors
Paper towels
Roll of masking tape
Copies of student sheet (p.9)
Subjects
---
Life Sciences
Mathematics
Audience
---
To use this activity, learners need to:
Learning styles supported:
Involves teamwork and communication skills
Involves hands-on or lab activities
Other
---
Includes alignment to state and/or national standards:
Includes assesments for student learning:
This resource is part of:
Access Rights:
By:
Tharp, Barbara Z. ; Erdmann, Deanne B. ; Matyas, Marsha L. ; McNeel, Ronald L. ; Moreno, Nancy P.
Rights:
All rights reserved, Baylor College of Medicine, 2009
Funding Source: