---
Add to list
Go to activity
Activity link broken? See if it's at the internet archive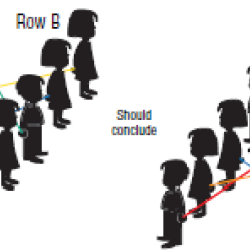 In this activity about neuron/target muscle recognition (page 44 of the PDF), learners arranged in two rows facing away from each other use string to simulate neural development. The lesson guide, part of NASA's "The Brain in Space: A Teacher's Guide with Activities for Neuroscience" includes background information and evaluation strategies.
Quick Guide

---

Preparation Time:

5 to 10 minutes

---

Learning Time:

45 to 60 minutes

---

Estimated Materials Cost:

1 cent - $1 per group of students

---

Age Range:

Ages 8 - 18

---

Resource Types:

Activity, Lesson/Lesson Plan, Simulation

---

Language:

English
Materials List (per group of students)
---
Five-eight sections of colored string (each a different color and cut 10-20 feet long)--one piece for every two learners on the team
Subjects
---
Life Sciences

Cells

Cell Structure and Function

Human Body

The Brain and Nervous System
Muscles and Skin

The Nature of Science

The Scientific Process

Conducting Investigations
Formulating Explanations
Communicating Results
Audience
---
To use this activity, learners need to:
see
see color
be mobile
touch
Learning styles supported:
Involves teamwork and communication skills
Involves hands-on or lab activities
Other
---
Includes alignment to state and/or national standards:
This resource is part of:
Access Rights:
By:
MacLeish, Marlene Y. ; McLean, Bernice R.
Rights: