---
Add to list
Go to activity
Activity link broken? See if it's at the internet archive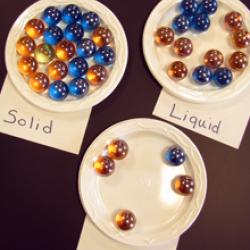 This activity was designed for blind learners, but all types of learners can explore the three states of matter by examining tactile models that illustrate the characteristics of particles in each state. Visually impaired learners and sighted learners can also work with marbles that illustrate particles' relation to each other.
Quick Guide

---

Preparation Time:

5 to 10 minutes

---

Learning Time:

10 to 30 minutes

---

Estimated Materials Cost:

$5 - $10 per group of students

---

Age Range:

Ages 11 - 18

---

Resource Types:

Activity, Model

---

Language:

English
Materials List (per group of students)
---
3 plastic plates for each student
Approximately 50 marbles
Large clear plastic bags
Tactile diagrams of solid, liquid and gas particles.
Subjects
---
Mathematics
Physical Sciences

States of Matter

Solids
Liquids
Gases
Changes of Phase
Audience
---
To use this activity, learners need to:
Learning styles supported:
Involves teamwork and communication skills
Involves hands-on or lab activities
Other
---
Components that are part of this resource:
Access Rights:
By:
Rights:
All rights reserved, Perkins School for the Blind,