---
Add to list
Go to activity
Activity link broken? See if it's at the internet archive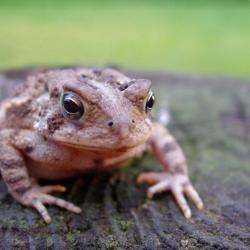 In this activity about backyard habitats learners create a safe and toad-friendly environment near their own home. Since frogs and toads are too sensitive to touch, observing them in this make-shift home is a great idea for families. Have fun and be creative by using rocks and twigs to surround the abode; every toad needs a good home!
Quick Guide

---

Preparation Time:

30 to 45 minutes

---

Learning Time:

10 to 30 minutes

---

Estimated Materials Cost:

$1 - $5 per student

---

Age Range:

Ages 6 - 11

---

Resource Type:

Activity

---

Language:

English
Materials List (per student)
---
One clay pot
paint or paint pens (bolder colors work better).
Informal Categories
---
Animals
Arts and Crafts
Nature and Environment
Audience
---
To use this activity, learners need to:
Learning styles supported:
Involves hands-on or lab activities
Other
---
This resource is part of:
Access Rights:
By:
Rights: