---
Add to list
Go to activity
Activity link broken? See if it's at the internet archive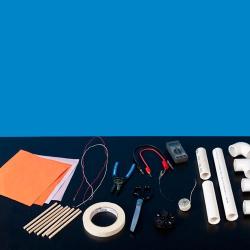 Learners build a wind turbine and test it to see how much energy is created. Learners can build a variety of wind blades, test a variety of wind speeds and see what effect these have on the energy created. Adult supervision recommended.
Quick Guide

---

Preparation Time:

Under 5 minutes

---

Learning Time:

45 to 60 minutes

---

Estimated Materials Cost:

Over $20 per student

---

Age Range:

Ages 11 - 18

---

Resource Types:

Activity, Model

---

Language:

English
Materials List (per student)
---
Three PVC pipes, one about 30 cm long and the others at least 15 cm long
Three PVC T-joints
One PVC elbow joint
Motor
Wire (about two feet long)
Wire cutters
Hub
Wood dowels
Multimeter
Alligator clips
Scissors
Tape
Hair dryer or fan
Materials for blades, such as balsa wood, aluminum foil, construction paper, popsicle sticks, etc.
Subjects
---
Engineering and Technology

Engineering

Electrical Engineering
Environmental Engineering

Technology

Physical Sciences

Electricity and Magnetism

Electromagnetic Fields
Electric Circuits

Energy

Potential and Kinetic Energy

Motion and Forces

The Nature of Science

The Scientific Process

Conducting Investigations

The Nature of Technology

Technology and Society

Technology and the Environment

The Design Process

Invention and Innovation
Problem Solving
Troubleshooting and Maintenance
Informal Categories
---
Electronics
Nature and Environment
Audience
---
To use this activity, learners need to:
Learning styles supported:
Involves hands-on or lab activities
Other
---
This resource is part of:
Access Rights:
By:
Rights: