---
Add to list
Go to activity
Activity link broken? See if it's at the internet archive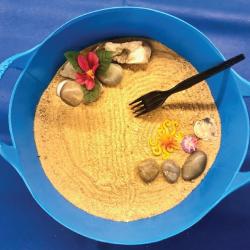 In this activity, learners will turn an ordinary tray of sand into a desk-top garden for meditation. Learners will explore design, mindfulness and patterns as well as develop fine motor skills and patience through this activity. Activity incudes step by step instructions with pictures, vocab words and definitions to use, fun facts related to the activity and ways to change it up extend the activity.
Quick Guide

---

Preparation Time:

5 to 10 minutes

---

Learning Time:

30 to 45 minutes

---

Estimated Materials Cost:

$1 - $5 per student

---

Age Range:

Ages 4 - 14

---

Resource Type:

Activity

---

Language:

English
Materials List (per student)
---
Sand
Shallow container or tray
Fork
Rocks, shells, small toys, flowers, etc.
Subjects
---
Earth and Space Science
Life Sciences

Human Senses and Perception

Mathematics
The Nature of Technology
Informal Categories
---
Arts and Crafts
Gardening
Nature and Environment
Other
---
Includes alignment to state and/or national standards:
Access Rights:
By:
Rights:
All rights reserved, Marbles Kids Museum, 2022