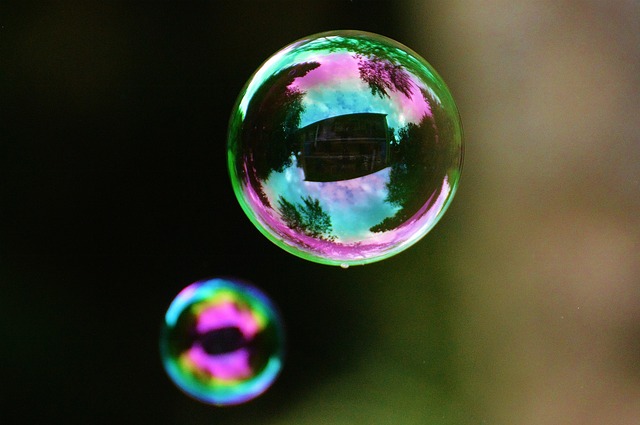 Bubbles aren't just kid stuff anymore. Computer scientists at Bristol University in England are studying bubbles as a new kind of surface for displaying information. They're devising different sized bubbles on which to project short-term images to use in teaching, office communications, retail, entertainment and much more.
Sunny day or rainy day, outdoors or indoors, bubbles are perfect fun for summer learning in science, math, and art. They're inexpensive, easy to create, colorful to watch, and fun to blow and pop! You can chase them around to get exercise (health science), marvel at how light makes rainbows on their surface (physics), and watch them float in the warm breeze (atmospheric science).
How these clear spheres show their true colors is one of bubbles' endless fascinations. Explore the colors of bubbles in activities like Why Are Bubbles So Colorful and Bubbularium: See the Colors in Bubbles. Take bubble colors to the next level, and create your own bubble art show with the Soap Bubble Art activity. Learners can create beautiful pictures from popping soap bubbles. First they color dish soap with food dye, blow bubbles above watercolor paper, then watch as they pop and stain the paper in colorful and interesting patterns. Take pictures of all your bubble artwork and display it onsite or online!
You can even connect bubble fun with a hot weather field trip to a waterslide. The Foam Tower activity links with the video DragonflyTV: Waterslides. In the activity, learners whip up suds with a cup of water and a tablespoon of dish soap, until the bubbles are stiff enough to start piling on a plate. The challenge is to build the tallest pile, by varying soap, water, or time of mixing to maximize the height of the tower. Try the activity first, then head for the nearest waterslide and keep cool!