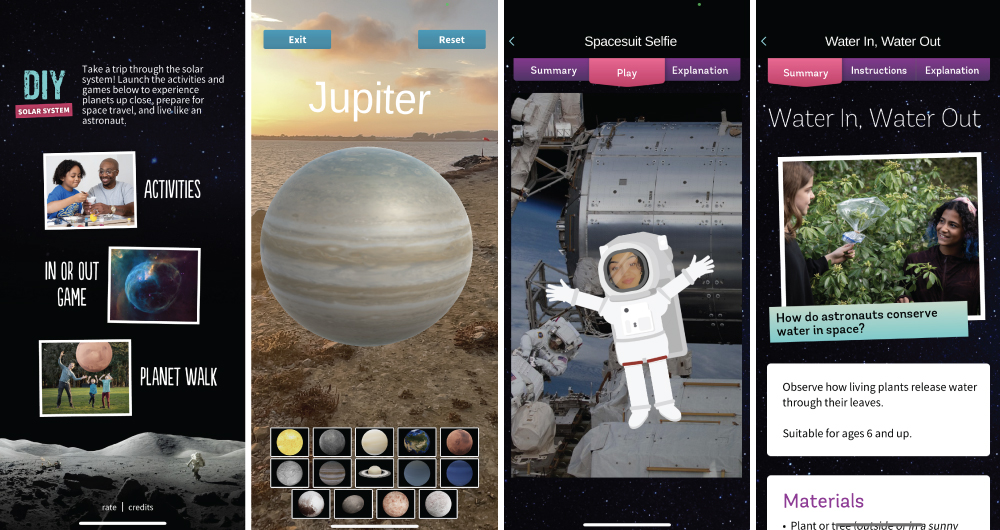 DIY Solar System makes it easy for families and educators to explore the solar system from anywhere, anytime! This new app from the creators and contributors of Howtosmile is now available on the App Store.

DIY Solar System includes 11 easy-to-use activities to learn about space travel, living in space, and the unique objects that make up the planetary system we call home. Design a Moon base, grow your own space garden, or experience what it's like to control a rover on Mars! Each activity includes step-by-step instructions that have been tested by educators, kids, and families. Activity materials are easily available and inexpensive—you may already have many of them in your home!

Don't have the time to travel several billion miles to reach Neptune? Try dropping a scale version of the solar system outside your home to start a walk that will show you planets, dwarf planets, and asteroids. At each stop, examine the space object up close using real images from NASA. Don't forget to take a space selfie with your favorite planet!

Quickly scan awe-inspiring images of space objects from NASA's Earth and space observatories to decide if the objects are in or out of the solar system. While the solar system is vast, it only represents a tiny corner of the universe. After you have mastered your solar system knowledge, challenge yourself to a new round of objects in or out of our home galaxy, the Milky Way.

DIY Solar System was developed by the Children's Creativity Museum, Sciencenter, and Museum of Life and Science, in partnership with UC Berkeley's The Lawrence Hall of Science. This work was supported by NASA under award number 80NSSC21M0082. Any opinions, findings, conclusions, or recommendations expressed in these programs are those of the author and do not reflect the views of NASA.