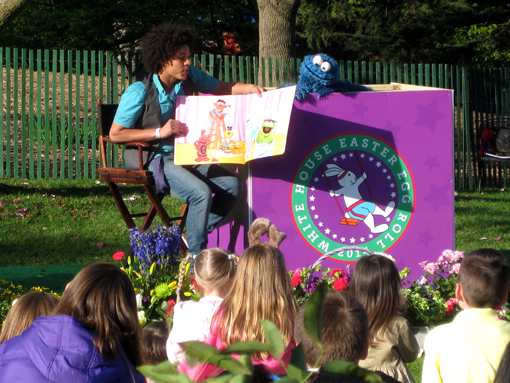 Running with kites, floating toy boats, and making "sound sandwiches" were the hands-on science highlights for thousands of children and their families who entered the "Eggsperiment Zone" at this year's White House Easter Egg Roll.
More than thirty thousand people attended the annual event, and had the chance to do STEM activities on the South Lawn, get moving with Olympic and professional athletes, whip up healthy recipes, hear President Obama read Where the Wild Things Are, and meet Cookie Monster from Sesame Street. This year's theme was Hop Into Healthy, Spring Into Shape, in support of First Lady Michelle Obama's Let's Move! initiative.
At the Eggsperiment Zone, Lawrence Hall of Science helped visitors explore air speed, air density, surface area, and lift with the Paper Bag Kite activity. Visitors got to run like the wind to test their kites and see Bernoulli's Principle in action.
The Association of Science-Technology Centers showed visitors how to get musical and scientific at the same time, with the Sound Sandwich activity. Using a straw, two craft sticks and some rubber bands, visitors could construct a noisemaker to explore how vibration produces sound.
The American Association for the Advancement of Science guided visitors in discovering density and buoyancy, building boats from aluminum foil, paper cups, popsicle sticks and tape, and testing whether their boats would float, even when loaded with beans.
The three organizations had lots of helping hands at the White House, thanks to additional staff and volunteers representing the National Science Foundation, Institute of Museum and Library Services, Smithsonian, Science Center of Minnesota, Maryland Science Center, American Chemical Society, Shenandoah Valley Discovery Museum, and George Washington University.
Want to set up your own Eggsperiment Zone? With thousands of STEM activities to choose from Howtosmile.org, you can celebrate science any time of year, anywhere you are. Have fun being active while you learn, with STEM activities that also use movement to teach. You can find hundreds of these with the Let's Move! Museums and Gardens activity search engine created by Howtosmile.org.