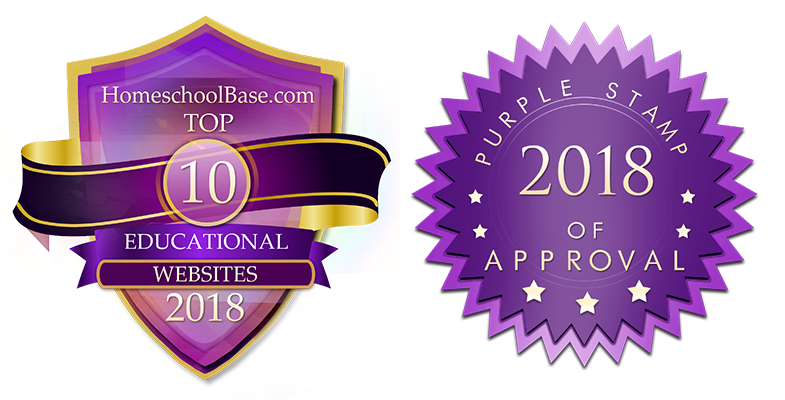 The new year brings another award for howtosmile. Homeschool Base, the internet's largest volunteer driven homeschooling website, has named howtosmile.org as one of the top 10 educational websites for math, and included the website in their best 100 educational websites for 2018.
Homeschool Base celebrates each new year by presenting accolades to the best educational websites, apps, and resources. Home educators, teachers, and parents alike have voiced their appreciation for the digital tools and resources they deem invaluable. Each website was lauded by multiple home educators and teachers through surveys, online discussions, direct feedback, and research. As a result, the curated lists of the top 10 and top 100 educational websites for 2018 are an ideal way to discover new peer-reviewed resources.
The rich catalog of activities at howtosmile.org empowers homeschoolers to craft their own interactive and hands-on learning experiences, specifically tailored to the interests of their students. We designed the search and list-making tools of the website to easily fit into the workflow of educators and to cut through all the noise on the web when it comes to educational resources. We believe homeschoolers appreciate the efficiency of howtosmile.org and trust in the high-quality STEM choices it provides for their programs.
The online catalog contains over 3,500 of the very best science, technology, engineering, and math (STEM) activities on the web. The activities are completely free and drawn from many well-known sources including leading science museums, professional scientific organizations, US federal agencies, and universities. Based at University of California, Berkeley's Lawrence Hall of Science and initially funded by the US National Science Foundation, howtosmile.org lets educators quickly search across the entire collection by topic, age of the learner, cost of materials, and many other characteristics, to find the perfect activity for their class, camp, or home-based learning experience. The website has been named an American Library Association Great Website for Kids, an American Association of School Librarians Best Website for Teaching and Learning, and one of Homeschool.com's Top 100 Educational Websites
About Homeschool Base
Homeschool Base hosts an eclectic collection of homeschooling resources, news, information, and blogs. Homeschool Base's intent is to be the middle ground between academia, breaking news, homeschool blogs, and homeschooling resource sites, where one can come and learn about all things homeschooling.
About the Purple Stamp of Approval
The Purple Stamp of Approval, a brand endorsement by Homeschool Base, honors exemplary websites, programs, and products that offer quality, innovative, unique, cost-effective, and/or significant value to teachers and homeschooling families. As a prerequisite for consideration, every website must be nominated with high praise by multiple home educators.