Submitted by

Deborah Lee Rose

on Wed, 02/15/2012 - 07:53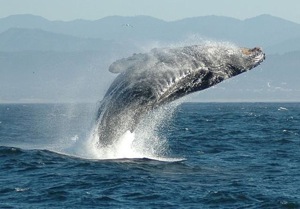 Students in grades K-8 are invited to submit original artwork, poetry and short stories to the 2012 Humpback Whale Month Ocean Contest. Entries must be received by 12 noon on March 15. By participating, students become members of the NOAA National Marine Sanctuaries Ocean Guardian Kids Club.
Humpbacks are the Hawaiian state marine mammal. Even if you don't live in Hawaii, or near any ocean, you can find lots of whale information at the library, or online at websites like Hawaiian Islands Humpback Whale National Marine Sanctuary. At Howtosmile.org, you can listen to humpbacks' amazing underwater sounds in Identify Whale Songs, and use real humpback population data in Let's Count Humpback Whales to find out if humpbacks are endangered.