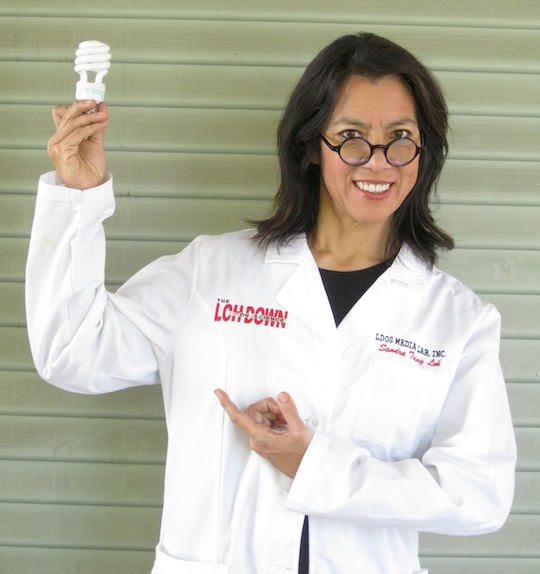 Any public school in the U.S. can compete this November in a fun, online science contest with the chance to win a $1,000 cash prize. The contest is produced by public radio's Loh Down on Science in collaboration with Howtosmile.org. One school will win—based on how many of the school's students participate and how often they answer science-themed, multiple-choice "Questions of the Day" (Monday-Friday) at www.lohdownonscience.org. The correct answer to each question, with a fuller explanation and related Howtosmile.org activity, will appear on the Loh Down on Science website the next day.
The Loh Down on Science is heard on 140 radio stations, in over 40 countries. The contest runs November 1-29, with the winner to be announced December 2. Schools across the country can register now for the contest. Full details can be found at www.lohdownonscience.org.  
"Our fun daily Question of the Day game can be played in less than 60 seconds," says Loh Down humorist Sandra Tsing Loh, who hosts radio's witty, syndicated daily 90 seconds of science. "Teachers can poll their students in the classroom, or kids can play the game on a mobile phone in the carpool or on the bus to school. It's a great way to stimulate a daily science conversation."
There are plenty of Howtosmile.org activity surprises throughout the contest—from Hogwarts "magic" you can make with simple ingredients, to turning turkey bones from Thanksgiving into dinosaur science. "Howtosmile.org brings to this new collaboration an expanding, dynamic platform that lets educators, parents and kids access the best hands-on activities for learning science, technology, engineering and math," says Darrell Porcello, creator of Howtosmile.org and Chief Technology Officer at UC Berkeley's Lawrence Hall of Science. "We are excited to partner with the Loh Down on Science and UC Irvine."  
Originated at Caltech, The Loh Down on Science is currently produced by LDOS Media Lab, in association with UC Irvine and Southern California Public Radio through a generous grant from the Gordon and Betty Moore Foundation.
Photo of Sandra Tsing Loh by Tatiana Loh