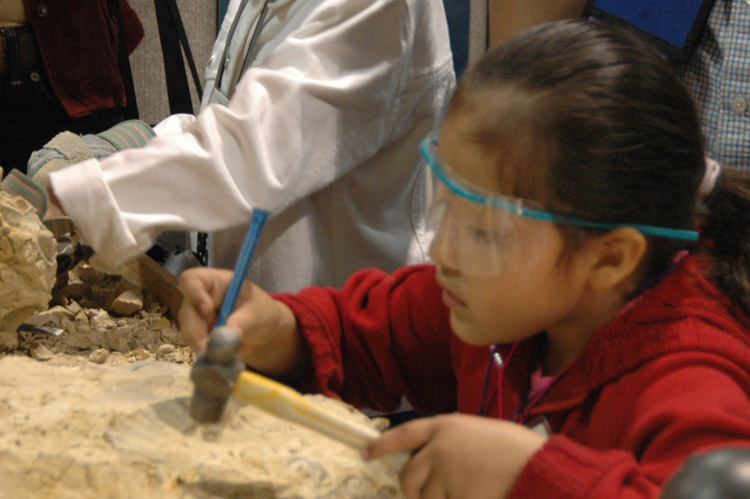 Not only huge science festivals, but professional scientific conferences are giving the public a chance to do more hands-on science and meet scientists face to face. On Sunday December 2, the American Geophysical Union (AGU) conference in San Francisco will hold its free, public Exploration Station. Visitors of all ages can play with "radar," discover the ocean and the Earth's polar regions, stargaze in an inflatable planetarium, race against climate change, and pose questions directly to real scientists. Mars scientists will also give a free public lecture about the red planet mission. 
What's the public and professional reaction to such events at scientific meetings? Not only have public audiences told AGU that Exploration Station is a great event, 80% "said they were 'likely' or 'very likely' to look up more information online or in books, based on something they saw at the event," according to Pranoti Asher, AGU
 Manager for Education and Public Outreach. Some 17,000 AGU member scientists now belong to the organization's education listserv. Especially in the wake of recent, major Earth events like the earthquake/tsunami in Japan and Hurricane Sandy, many scientists want to know more about reaching out to learners, from young children to university undergraduates.
In the same spirit, the American Association for the Advancement of Science (AAAS) Annual Meeting in Boston will hold its public Family Science Days on February 16 and 17, 2013. "The meeting brings thousands of scientists from around the world together to different cities every year, and it is important that these scientists have opportunities to engage with the public in the host city," says Linda Cendes, AAAS Program Associate for Public Engagement. Partnering with the Cambridge Science Festival, 50 participating science organizations will present activities at AAAS such as painting with bacteria, digging for artifacts, driving robots, and seeing nanotechnology in everyday items. In the Meet the Scientist series, scientists will talk about their research and why they became scientists.
"Parents have told us that their daughters loved talking to women scientists about their careers, or that their son can't wait to get home and build a model solar car like he did at the event," says Cendes. At the same time, talking about science with the public can provide scientists unexpected insights into their own research, or help bring personal meaning to their work, she notes.