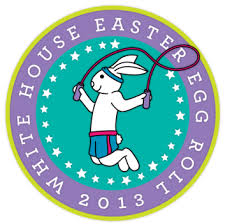 Sound "sandwiches" were the newest item on the science menu at the 2013 White House Easter Egg Roll. The Association of Science-Technology Centers served up 2,500 Exploratorium Sound Sandwich activities as part of the annual event's expanded science exploration area. 
One of the most popular hands-on activities in the Howtosmile.org STEM collection, Sound Sandwich uses a drinking straw, two craft sticks and rubber bands to show how vibration produces sound. 
The 135th White House Easter Egg Roll drew more than 30,000 people with the theme "Be Healthy, Be Active, Be You." In addition to sports, lawn games, kid-friendly cooking, and storytimes, visitors got to craft a Paper Bag Kite and run like the wind to fly it, and toss a paper copter in a Helicopter Twirl illustrating principles of flight and lift. Both activities, in the Howtosmile.org collection, were created by UC Berkeley's Lawrence Hall of Science, which four years ago inaugurated hands-on science fun on the White House South Lawn. 
In the spirit of First Lady Michelle Obama's Let's Move! initiative, this year the American Association for the Advancement of Science offered an activity about food energy. Kids and grownups got to eat a jellybean, then dance long enough to burn off the energy the jellybean generated.
The White House event's expanded STEM activities sparked many conversations during the day about kids' experiences doing science in and out of school, and questions from all ages about what it takes to be a scientist. On hand with the answers were volunteers from an array of science centers, museums, organizations and agencies, including the American Association for the Advancement of Science, Association of Science-Technology Centers, Lawrence Hall of Science, American Chemical Society, Museum of Science, Boston, Smithsonian National Museum of Natural History, Lemelson Center at the National Museum of American History, George Washington University Museum Studies program, National Science Foundation, Department of Energy, Office of Science and Technology Policy, Change the Equation, and Scientific American.
If you couldn't make it to the White House, check out Howtosmile.org to try the Sound Sandwich, Paper Bag Kite and Helicopter Twirl activities. You can also use the Let's Move! Museums and Gardens search engine, created by Howtosmile.org for the Institute of Museum and Library Services. There you will find hundreds more activities that get learners out of their chairs and moving while they have fun exploring STEM concepts.