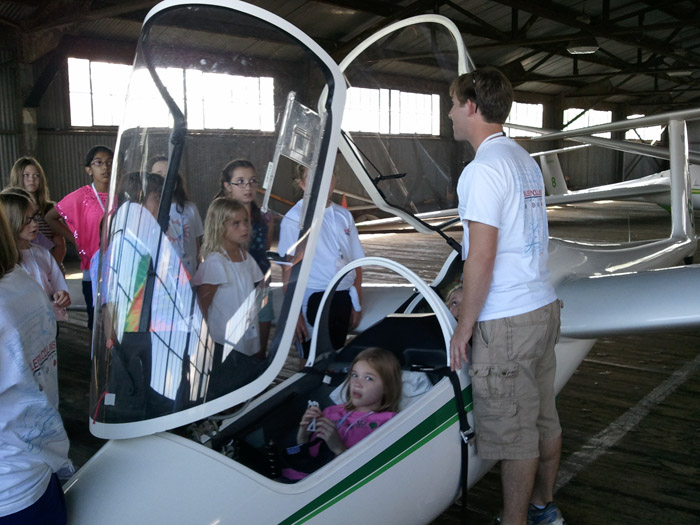 Things are looking up for STEM educator Kaye Norton, literally. As the National Soaring Museum's Education Services Coordinator, Norton wants her students looking up at the sky to understand what they're learning about the science of motorless flight.
Norton has been looking up since she was a kid watching gliders on Harris Hill near Elmira, New York, where the National Soaring Museum is located. She was also inspired by Elmira-born astronaut Eileen Collins, the first woman to command a space shuttle in 1999. Now as an informal educator, Norton teaches her students about aviation on Earth and in space, engineering and design, physics, and flight planning. From creating an upcoming science fair for girls, to helping Boy Scouts earn their aviation badge, she uses many Howtosmile.org activities such as Balloon Rocket and Thermal Energy.
"What I like best about Howtosmile.org is that I don't need to scour the internet looking for experiments. It's all in one place, and being able to search by age is just what I need," Norton says.  
She also uses the website's listmaking function to organize activities by theme or for special programs like the National Soaring Museum's very popular overnights. The Sleeping with Sailplanes overnight teaches children about the forces of flight through experiments with lift, gravity, drag, and thrust, including making and testing different types of paper airplanes to see which designs work best. Every child gets to make and take home a 5' wing rib, a replica of the ones the Wright Brothers used in their 1902 motorless glider. The Wright Brothers flew more than a thousand motorless glides from North Carolina's Big Kill Devil Hill, Norton points out, before they made motorized aviation history on December 17, 1903.