---
Add to list
Go to activity
Activity link broken? See if it's at the internet archive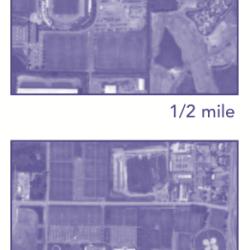 This activity (on page 2 of the PDF under SciGirls Activity: Earthquakes) is a full inquiry investigation into aerial imagery. Learners will use the internet to gather free aerial imagery of nearby points of interest (or use laminated images prepped by educator). Then, they will imagine they are traveling in a spaceship to visit Earth for the first time and explore how their view changes as they approach Earth's surface. Relates to linked video, DragonflyTV GPS: Earthquakes.
Quick Guide

---

Preparation Time:

10 to 30 minutes

---

Learning Time:

45 to 60 minutes

---

Estimated Materials Cost:

free per group of students

---

Age Range:

Ages 8 - 14

---

Resource Types:

Activity, Lesson/Lesson Plan, Simulation

---

Language:

English
Materials List (per group of students)
---
computer access to the Internet, to gather free aerial imagery of points of interest near you. Examples are Google Earth (http://earth.google.com/), or Terraserver (http://terraserv- er.homeadvisor.msn.com/). Inexpensive imaging software is also available from EarthBrowser (http://www.earthbrowser.com /download.html).
Subjects
---
Earth and Space Science

Astronomy

Probes, Satellites and Spacecraft

Earth Processes

Earthquakes
Volcanoes and Plate Tectonics
Weather and Climate

Earth Structure

Oceans and Water
Atmosphere
Biosphere

Mathematics

Data Analysis and Probability
Measurement

Engineering and Technology

Engineering

Aerospace Engineering
Civil Engineering

Technology

Information and Communication

Life Sciences
The Nature of Science

The Scientific Process

About Inquiry
Conducting Investigations
Gathering Data
Formulating Explanations
Communicating Results

The Nature of Technology

Technology and Society

Impacts of Technology
Technology and the Environment
Informal Categories
---
Computers
Nature and Environment
Photography and Film/Video
Audience
---
To use this activity, learners need to:
see
read
use keyboard
use mouse
touch
Learning styles supported:
Involves hands-on or lab activities
Culture, ethnicity, and gender
Girls

Highlights STEM opportunities for this group
Identifies role models or mentors in STEM fields from this group
Uses inclusive images of people from this group
Other
---
Components that are part of this resource:
This resource is part of:
Access Rights:
By:
Source Collection
Rights:
All rights reserved, Twin Cities Public Television, Inc., 2006
Funding Source:
National Science Foundation, 436260